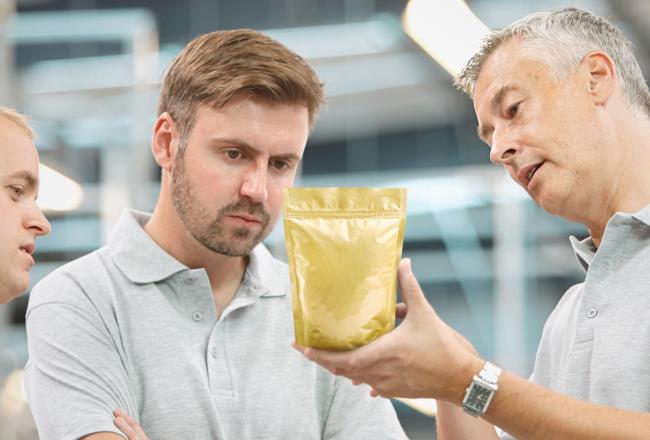 Story
What the future could hold for flexible packaging
What do deliciously crunchy chips, crisp green salad and fresh roasted coffee beans have in common? Their bags and pouches belong to a quickly growing category known as flexible packaging – currently the most widely used form of packaging worldwide.
Flexible packaging is on the rise. In recent years it has surpassed all other packaging types including rigid plastics, metal, paper and glass. And for good reason: flexible packaging offers efficient roll-to-roll processing and appealing designs. Its high functionality also extends the shelf life of food while minimizing material usage.

Current trends in flexible packaging are likely to shape the sector for years to come. Consumer expectations, legal requirements and innovative technologies will define how goods are packaged in the future. With our products and developments for polyurethane (PU) adhesive technology, we are delivering solutions to a wide array of trends in the packaging industry.
Social trends: Individualization and convenience

Busier consumers want time-saving, portable products. Flexible packaging already offers a wide range of formats and solutions for convenient meals and snacks. Smaller packaging sizes cater to the growing number of single households in many industrialized countries. Products packaged in easy-to-open pouches with integrated resealable flaps can be enjoyed anytime and anywhere. Heat-resistant pouches and boil-in bags make it easier to enjoy pre-cooked meals.

In the future, the increasing demand for high-performance solutions will continue to shape the flexible packaging market. Highly functional, but thin packaging requires various functional layers. For adhesives this means that the effective bonding of laminate substrates will need to offer increased chemical and temperature resistance to withstand the harsh sterilization and wet-filling processes, for example. PU technology offers a highly adaptable performance range to meet these challenging requirements.
Food packaging helps to keep food fresh and safe for an extended period without the need for preservatives. PU lamination adhesives based on our raw materials enable the creation of extremely efficient packaging solutions with minimal material usage.

The careless disposal of packaging materials around the world has led to the current situation we see in dramatic images almost every day. To counteract the growing problem of packaging waste, besides changing consumer behavior, all players along the value chain need to work together to create more sustainable solutions and establish standards and infrastructures to keep packaging materials in the recycling loop and out of environment.
Sustainability trends: Solutions with an enhanced ecological footprint

While sustainability is hardly a new trend in the flexible packaging market, it continues to be a major factor driving its development. More and more brand owners are seeking sustainable solutions. Flexible packaging offers inherently ecological benefits: it uses less material than other solutions (e.g. rigid PET and aluminum) and with that, saves precious resources and energy during production. Packaged products can also be transported more efficiently to minimize fuel consumption and CO2 emissions.

While the multilayer structure of highly functional flexible packaging results in performance advantages for the duration of its use, it simultaneously poses a challenge to today's requirements for materials recycling.

In the future, flexible packaging principles and concepts will need to adapt to meet sustainable development goals and resulting regulatory requirements more effectively. Such changes could include new packaging that is designed with recycling in mind. For the future of lamination adhesives, one possibility will most likely be the higher utilization of bio-based raw materials, as well as readily biodegradable, dissolvable and/or compostable solutions. Those solutions comprise adhesives that are designed for easier degradation or delamination in typical recycling environments.
Another approach could involve packaging materials that are compatible with existing recycling concepts. Such materials might utilize aliphatic polyurethane adhesives, which enable a higher recycling quality for laminates. Unlike aromatic adhesives, they do not lead to a yellowish color in their applications, so the recyclates are suitable for reuse in a wider product base.

Health and food safety trends: Reliable, safe materials

Food contact materials (FCMs) are subject to stringent legal requirements. With the growing consumer and brand owner demand for maximized health and food safety, standards and regulations are likely to become even stricter in the future. All players along the value chain, from raw material suppliers to brand owners, will need to collaborate even more closely to create packaging solutions that continue to improve the quality, freshness and safety of food products.

For lamination adhesives, the future is likely to bring even cleaner solutions with an ultra-low monomer content and products that minimize or even prevent potential migration in line with legal requirements. These solutions will enhance workplace hygiene and food safety at various levels.
Efficiency trends: Optimizing materials and processes

In a competitive environment it is crucial for converters to operate at the highest possible level of efficiency. Achieving even higher lamination speeds and the shortest possible production-to-customer times will be key for staying ahead. New capabilities and innovations in packaging design are enabling smaller order sizes, and converters need the means and expertise to adapt their production and respond quickly and effectively to this changing environment.

Adhesive innovations such as fast-curing formulations will help manufacturers achieve superior lamination results while reducing process times and ensuring excellent workability. Additionally, by integrating these solutions in just-in-time delivery strategies, converters will be able to decrease their inventories significantly.
Key trends and our solutions: High-performance PU adhesives contribute to enhanced sustainability in flexible packaging

Our product developments enable the flexible packaging industry to respond to these trends, now and in the future. Fast-curing, easy-to-use PU lamination adhesives help manufacturers trim and accelerate their processes – and stay competitive in the fast-paced flexible packaging market. When it comes to food safety, our proven raw materials for PU adhesives satisfy the strict requirements for food contact materials defined in Regulation (EC) 1935/2004. Sustainability continues to be a consistent driver throughout all of our innovation processes and renewable feedstocks offer opportunities to develop more sustainable building blocks for flexible packaging. We are working to successively enlarge our product portfolio with bio-based products to offer more sustainable and easy-to-use solutions for you, your customers and a growing number of discerning end consumers.


We look at different ways to make packaging solutions more sustainable. One basic approach is to increase the utilization of bio-based raw materials for lamination adhesives without compromising performance. Another approach deals with improved recycling characteristics for multi-layer flexible packaging.