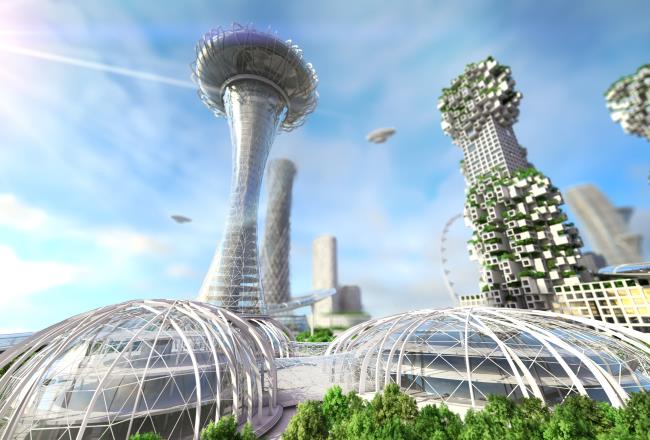 Case study
City of the future: PU insulation allows for climate-neutral and affordable living
Energy-efficient construction is an important factor for better climate protection. Affordable rental housing and the highest energy standards do not have to be a contradiction in terms. Innovative polyurethane (PU) insulation from puren makes this possible.
The neighborhood housing project of Baugenossenschaft Überlingen (BGÜ) in southern Germany is regarded as an innovative pioneer for energy-efficient, climate-neutral, and affordable living. It combines top energy standards (KfW Efficiency House 40 Plus and targeted climate neutrality) with social balance.
A total of 180 residential units will be created as part of the neighborhood expansion, distributed over 14 new buildings. The overall project includes both the new construction and renovation of existing buildings. With its forward-looking solutions, it serves the German government as an exemplary model for particularly energy-saving, climate-neutral, and socially balanced residential district development.
To insulate the new buildings, a building material was sought that would make it possible to achieve the high KfW Efficiency House Level 40 Plus and climate neutrality. Efficiency level 40 Plus means that only 40 percent of the primary energy is required compared to the reference building of the Energy Saving Ordinance.
Since the project follows a cooperative approach and strives for a good social balance, an efficient as well as economical solution for the insulation of the buildings was also required.
"Due to their outstanding thermal insulation values at low thickness, PU insulation materials are excellent for reducing energy consumption and CO2 emissions in buildings and saving costs."
Building energy-efficiently and creating affordable housing at the same time - that was the challenge for this residential quarter project. The residential quarter project of Baugenossenschaft Überlingen (BGÜ) in southern Germany is regarded as an innovative pioneer for energy-efficient, climate-neutral, and affordable living. At the same time, the aim was to meet the demand for social balance through cooperative and affordable housing.
To meet this dual requirement, innovative, space-saving thermal insulation was needed. After all, every single square meter of living space counts in affordable projects, and a particularly high-performing and durable insulation material is crucial for achieving the required energy efficiency. However, this should also be affordable and contribute to the economic viability of the construction project. This is a challenge that cannot be met with conventional insulation materials.
"With PU insulation, we can create more living space because PU allows us to design thinner facades without sacrificing energy efficiency."
In order to be able to achieve a high standard of energy efficiency and affordable housing at the same time, particularly efficient use of valuable resources is required. Land for building is scarce and increasingly expensive. This is precisely where PU high-performance insulating materials can come in, because they provide a particularly high level of thermal insulation without sacrificing valuable living space. This improves the ratio of living space to construction costs and can thus make an important contribution to affordable housing.
Innovative thermal insulation made of polyurethane (PU) has a very low lambda value. As a result, puren is able to deliver high-performance insulation in a minimal footprint. This ability makes PU an effective and cost-efficient insulating material both for new buildings and the renovation of existing buildings. The big advantage of PU is that the high efficiency house standards are possible with relatively slim facade and ceiling constructions, because PU as a high-performance insulating material insulates particularly well. This allows valuable living space to be preserved. Compared to other, traditional insulation materials, this saves a lot of space and thus money, which represents a real gain in living space.
In this particular case, the PU insulation panels were installed on the ceiling of the underground parking garage. This way, space could be saved in the structure height, which had a positive effect on the cost efficiency of the building, since, for example, reduced excavation work was required as well as less building material such as concrete for the structure for the walls.
Insulating the facades with PU insulation panels for ETICS (external thermal insulation composite systems) also had a strong effect. Thanks to a consistent optimization of space already in the planning phase, it was possible to save a lot of space in the thickness of the exterior walls with the slim facade construction. As a result, the investor was able to achieve a gain in living space totaling three more apartments in this project, which would not have been possible with any other conventional insulation material at this level of overall efficiency.
In addition to the underground parking garage ceiling insulation and the ETICS facade insulation, other PU innovations were used in this project. For example, the flame-retardant insulation for the roof as well as the special roof edge constructions made of PU structural insulation materials not only increase energy efficiency but also the safety of the buildings due to a thermal bridge-free roof edge closure.
PU insulation materials are recyclable and can be returned to the material cycle in line with the circular economy.
"With this project, we were able to prove that the highest levels of energy efficiency and affordable housing don't have to be a contradiction in terms."
Key Benefits
Energy efficient: Higher energy efficiency standard of PU thanks to very low lambda value.
Cost-saving: PU insulation allows for better use of space and thus high savings.
Modern: Living space with the highest energy standards remains affordable with PU.
recyclable: PU insulation materials can be returned to the material cycle in line with a circular economy.