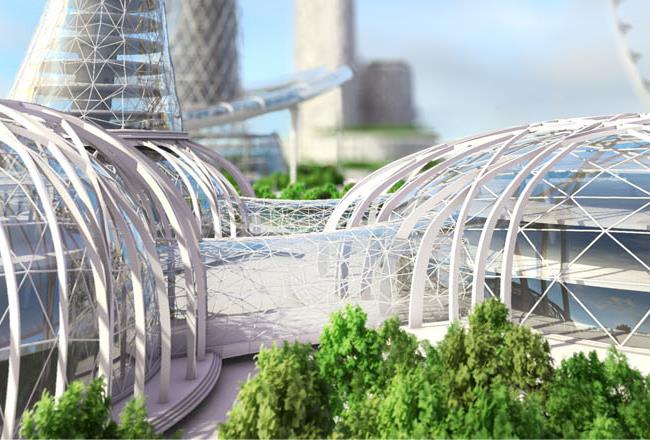 Story
Covestro and AJ workshop: Envisioning the future of buildings
A workshop of passionate architects, academics and engineers selected by Covestro and the Architects' Journal (AJ) discussed the many trends driving the building sector towards a circular economy model. The results are now highlighted in the publication following the annual AJ Summit 2021.
Buildings: part of the problem, part of the solution
The challenges of our time are considerable. As natural resources are being depleted, the world's population is rising, and increasingly people are migrating to urban areas. In parallel, humanity is coping with the effects of climate change. Against this backdrop, achieving a sustainable, circular economy model of living has never been more urgent.
For the publication of the Architects' Journal, please click here
The construction and retrofit sectors will have a critical role to play in finding sustainable solutions for the coming decade, because buildings account for 40% of global energy consumption and emit more than a third of all greenhouse gases.
Workshop for architects and builders hosted by Covestro and the Architects' Journal
The converging dilemmas mean that residential, commercial, and industrial planners and builders are called upon to rethink their industry along circular economy lines. New everyday working practices must be shaped; ones that take advantage of digital technologies, that consume fewer resources, repurpose more existing materials, demand less energy, and impose a lower carbon footprint.
Covestro partnered with the Architects' Journal, a London-based architectural magazine, to host a workshop for architects, engineers and academics ahead of the publication's AJ Summit 2021. Some 26 invited participants considered the 120 micro-trends that Covestro had identified in studies conducted with multiple architectural universities during 2020. The selected invitees were drawn from companies of all sizes, and included experts in residential, commercial and industrial construction. Most of the attendees had previous experience with sustainability and/or circular economy concepts applied to construction.
Workshop insight: material transformation is key to cutting the carbon footprint
Following a structured methodology, workshop participants zeroed in on the transformation of materials as one of the most promising routes for decreasing the carbon footprint in construction and retrofitting.

As part of this effort, Covestro is engineering even more efficient raw materials for use in insulation boards, sandwich panels and prefabricated building walls. Our Baymer®, Desmodur®, and Desmophen® rigid polyurethane (PUR) and polyisocyanurate (PIR) foams reduce emissions and increase energy efficiency. Gas-filled micro pores enable the insulation to deliver 30—50% better thermal performance than glass wool, stone wool or polystyrene.

An important advantage from an environmental perspective is that over the full lifecycle, PUR and PIR insulation will save an estimated 70 times more energy than was used in their manufacturing. And a retrofit commercial property in Germany recently achieved an 80% reduction in energy consumption with the help of our foam solutions.

In addition, the polyurethane raw material methylene diphenyl diisocyanate (MDI) from two Covestro-owned plants is now available with ISCC Plus mass balance certification from the International Sustainability and Carbon Certification system. This means that renewable feedstock in the production mixture at these two plants can be allocated to rigid polyurethane foam insulation. The final product enjoys the same quality as purely fossil-based foam. The initiative is part of the Covestro collaborative effort to transition to a more circular economy by gradually converting to renewable raw material sources throughout the value chain.
"The workshop with Covestro helps to achieve transparency of materials' future path in the construction industry. Covestro offers polyurethane foam with high insulation properties and supports a sustainable route in reducing CO₂ emissions of buildings. The replacement of fossil feedstock by alternative raw materials and improving circular economy are clear statements of the company. In the upcoming decade of sustainable urban development, Covestro materials open up new opportunities as a material of choice in building solutions."
Covestro innovation: CO
2
as a raw material in insulation
In the future, polyurethane foam insulation could become even more sustainable. Working with industry partners, Covestro has researched using CO2 as a chemical building block in a pre-product for insulation foam. Replacing some of the fossil material in insulation with CO2 will be a major step forward in closing the carbon loop and applying circular economy principles in the construction sector.
For more information on Covestro innovations for the building sector, please get in touch with our team.
Key Benefits
Flat-roof friendly: Leak-resistant polyurethane insulation can be walked on without water-ponding.
Resource saving: PUR/PIR insulation saves 70 times more energy than was used to manufacture it.
High performance: Polyurethane foam insulates 30-50% better than mineral wool or polystyrene.
Durable and tough: Rigid foam is low-maintenance and resistant to weather, chemicals and UV light.
Easily installed: Lightweight, slim panels allow fast cutting on site to fit any shape.