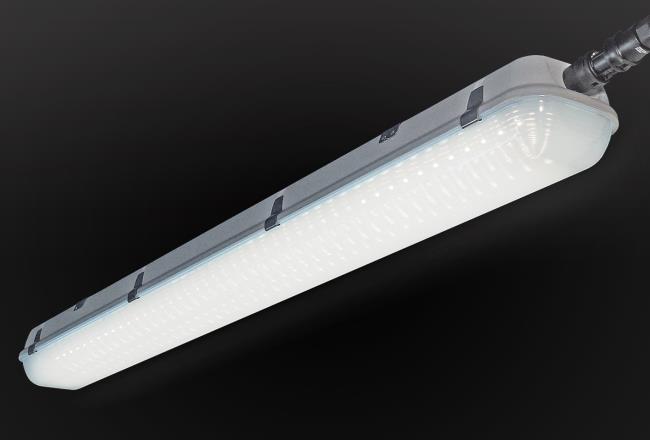 Case study
Makrolon® outdoor LED lamp covers withstand the elements
Choosing the right material for lamp housing makes all the difference in harsh environments. VLUX went with Makrolon® for the covers on its Futurix series of LED lamps because the high-performance material has no trouble withstanding various weather conditions
Belgian manufacturer
VLUX
wanted its Futurix LED series to provide the outdoor lamps of choice for industrial and outdoor environments such as warehouses, factories and parking structures. This is no easy task as the fixtures need to be able to withstand exposure to the full range of weather conditions and keep performing come rain or shine.
VLUX had very specific requirements for transmission and half-power beam angle (HPA) in the Futurix series lamp covers. These included desired wall thickness and the complex shape of the lamp covers. Only a tailor-made material could properly satisfy these demanding specifications.
We already had many strong, weatherproof materials that provide an inviting light effect available. But VLUX's specific light transmission and HPA requirements called for something totally unique. Which is why we worked closely with VLUX to develop Makrolon® 2207 DC polycarbonate especially for their lamp covers. The result is a translucent, white-colored material that is flame-retardant, impact-resistant and tough enough to ensure that LED lamps can withstand prolonged exposure to environmental conditions of all kinds.
Why Makrolon® 2207 DC was the right solution for lamp covers
Ultra-tough: Withstands exposure to demanding industrial and outdoor environments.
Diffusive: Spreads warm, white light to create a pleasant atmosphere without glare.
Heat resistant: Remains unchanged when exposed to heat.
Dimensionally stable: Retains size and shape when exposed to heat or humidity.
Flame retardant: Resists burning according to V2 standard.