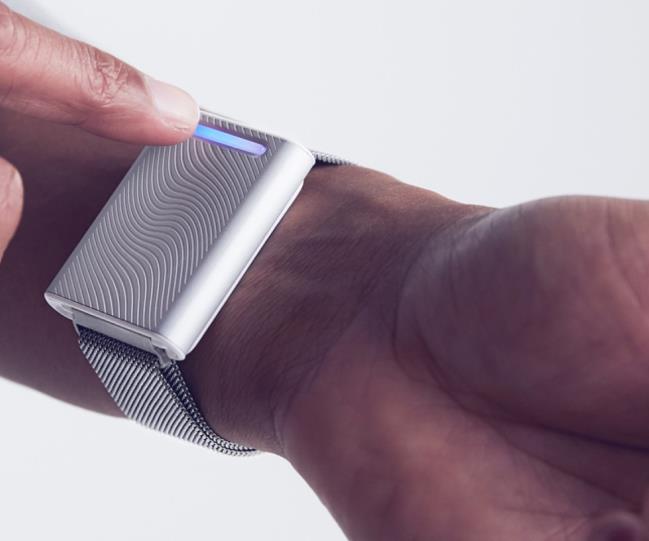 Case study
Light-optimized Makrolon® supports first ever thermal wearable
While most wearables monitor body rhythms, Embr Wave is an intelligent bracelet that "hacks" how people feel temperature. Targeted waveforms sent to thermoreceptors enhance the wearer's overall comfort. For the LED interface, the bracelet's makers chose Makrolon® for its superior optical performance.
Embr Labs
came to us for help in selecting the right material for the light bar on their thermal wearable device. As the primary user interface on the Embr Wave, it was essential that its material delivered the best possible optical performance.
Embr Labs wanted to use a frosted light pipe with LEDs. The challenge was to select an optical grade of polycarbonate for the light pipe that would support the control function of the user interface.
We turned to Covestro to help select the right material and optimize the design for optical performance.
Embr Labs chose Makrolon® 2407 polycarbonate, a UV-stabilized grade that offers proven performance for electronics, IT and telecommunications applications. For the Embr Wave, illuminated colors provide a simple, effective way of conveying temperature to users. Diffusers and optical brighteners were compounded into the resin to achieve the desired visual effects.

Instead of using text or symbols, color and light are simple, minimalist – yet effective – means to convey information to the user. Covestro has deep expertise in helping brand and electronics manufacturers design with light.
Why Makrolon® was the right solution for Embr Labs
Optical performance: High level of light transmission.
Strong & robust: Excellent mechanical properties and resistance to impacts.
UV-stabilized: Proven performance for applications in the electronics, IT and telecommunications industry.
Heat-resistant: High thermal stability and flame-retardant properties.
Low viscosity: Good flowability for efficient injection molding.