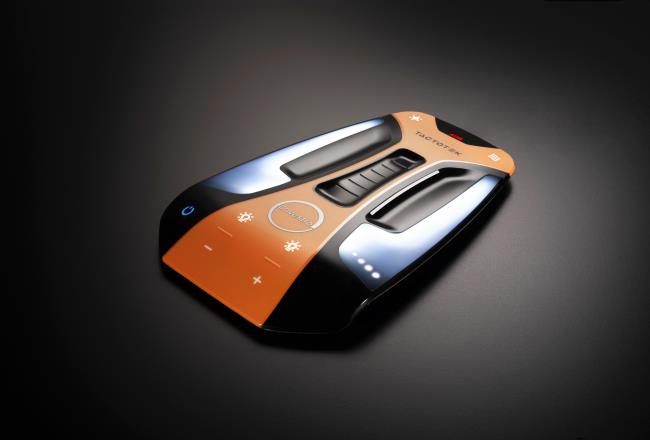 Case Study
Makrofol® and Makrolon® Ai enable smart surfaces in cars
Injection molded structural electronics (IMSE*) technology brings electronics into thin, durable 3D plastic surfaces. Using Makrofol® film and Makrolon® Ai resin, we helped our partner TactoTek® to create a fully functioning demonstrator overhead control panel that is strong, lightweight and sleek.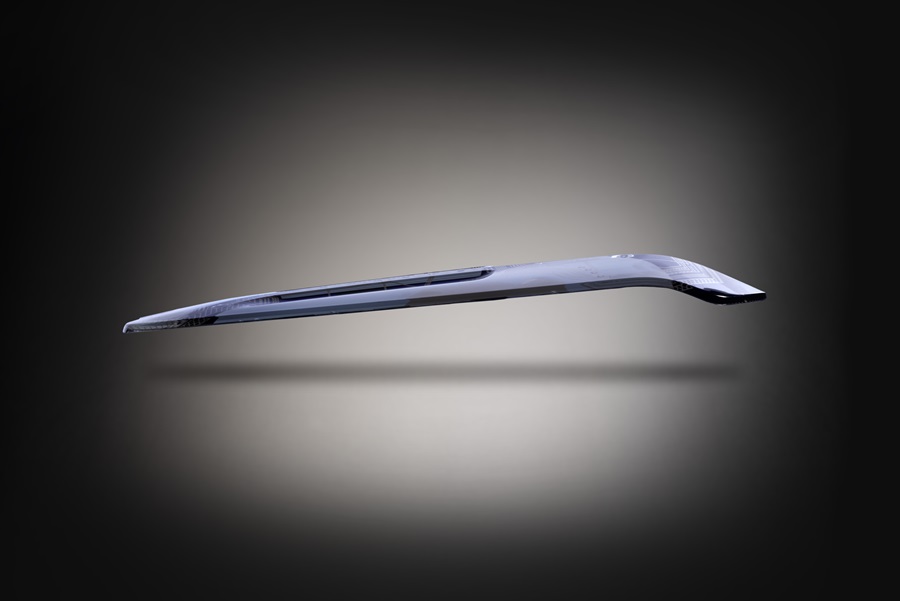 The way passengers interact with their vehicles is changing rapidly. Almost any visible surface in an automobile, from door trim to cover panels, can now integrate buttons, controls, switches and lighting. Our partner TactoTek® is a Finland-based specialist in Injection Molded Structural Electronics (IMSE™). For CES® 2019, they wanted to create a lightweight, durable overhead panel that integrated printed circuitry and controls, to prove how this technology increases design freedom.
Our challenge was to demonstrate how double-sided Film Insert Molding (FIM) technology can be used to create an elegant, low-profile and lightweight structure that integrates touch controls and lighting at a minimum depth of the molded part. Printed electronics and components had to be combined with a slim, elegant 3D shaped surface that is both durable and appealing, while saving both weight and space.
For the TactoTek® demonstrator, we supplied a two-in-one FIM solution, with products qualified for use in IMSE applications. For the touch surface on the front, we used a hard-coated UV curable Makrofol® HF312 film, ensuring scratch and chemical resistance. On the back side, an uncoated Makrofol® DE1-1 was printed with conductive inks. The electronic components werte integrated on the printed Makrofol® DE1-1 film. The two films were formed and trimmed before Makrolon® Ai 2217 polycarbonate was injected between the two film inserts. Makrolon® Ai resins offer a high optical purity and enable tailor made coloration.
* IMSE™: Trademark by TactoTec®
Illumination and functional surfaces are becoming increasingly important especially in automotive interior – this means beautiful, sleek surfaces which can interact with the people who are using the product.
Electronics enabled in 3D shaped plastic surfaces
Design freedom Makrolon® Ai resin allows complex 3D shaped smart surfaces with high mechanical stability.
Functional Makrofol® film and Makrolon® Ai resin allow the integration of electronics into plastic parts.
Ultra-slim Formable hard coated films and resins minimize weight and enable space-saving designs.
Lightweight Film and resin materials are combined in a single lightweight structural part.
Robust Makrofol® film ensures a surface that is scratch and chemical resistant.
Printable Makrofol® HF312 hard coated film can be printed on, thus allowing for customized designs.