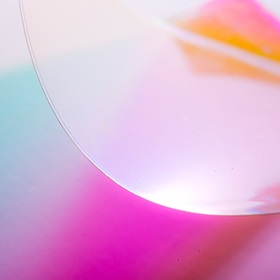 Bayfol® opens up new worlds of possibility
Bayfol® films particular strength include high chemical resistance, scratch resistance and good forming properties. The engineering thermoplastic films offering customized solutions with distinct functions. Bayfol® HX special films contain photopolymers for use in the industrial holography.
Bayfol® engineering thermoplastic films offer a complementary portfolio of properties to existing polycarbonate films. Customized features providing the perfect performance and functionality for specific applications.
Our Bayfol® HX films are based on RGB light-sensitive photopolymers for the recording of volume holographic optical elements (vHOE). Potential applications of vHOE range from head-mounted displays, 3D glasses for entertainment, automotive head-up displays and lighting, laser strike protection to counterfeit resistant holograms for product protection and labeling of high-value consumer goods.
Bayfol® HX comprises a transparent substrate film, a photoreactive layer with adjustable properties and a protective cover film.
Featured Products
Bayfol® HX200, light-sensitive, self-developing photopolymer film,to produce phase holograms in the form of volume reflection and volume transmission holograms, can be recorded with appropriate laser light, range from 440 nm to 680 nm. Bayfol® HX200, three layer stack of a substrate, light-sensitive photopolymer, protective cover film. Substrate cellulose triacetate film (TAC), removable protective cover polyethylene film (PE). The product is capable of being used for a variety of types of volume holograms.
Key Benefits
Thin and lightweight: Complex optical functions can be recorded in a single thin layer
Highly versatile: Multiple optical functions can be multiplexed in a single thin layer
Fully Transparent: Completely invisible in Off-Bragg conditions
Fits your needs: Tailor-made solutions for B2B customers optionally with technical advisory
Industry ready: Suitable for roll-to-roll industrial recording process