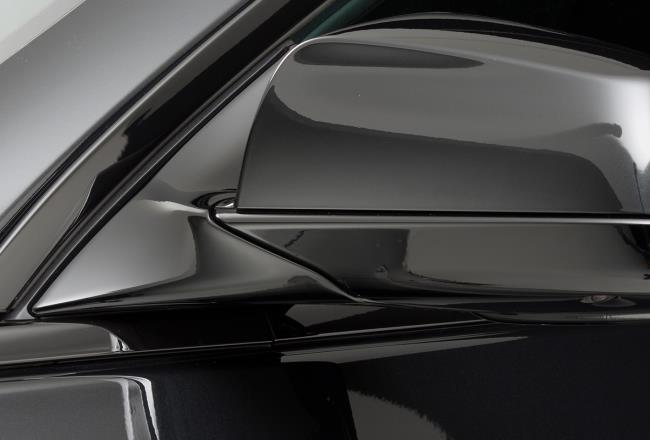 Application
Automotive exterior: Durable, sustainable materials with greater design freedom
Our innovative product portfolio offers attractive alternatives to conventional materials used to mold and coat automotive exteriors. Their lightweight strength, eco-friendly composition and good flow characteristics increase efficiency and sustainability while opening up new design options for car makers.
Featured Brands
Versatile toughness via blends of PC+ABS; PC+ASA; ABS+PC and PC+SAN

Polyurethane elastic systems with high impact resistance and flexibility

Versatile PU dispersions for eco-friendlier, low VOC coatings and adhesives

Polyisocyanates for a wide range of PU foams, coatings and adhesives

Polyurethane film made from aromatic and aliphatic polyester or polyether

Smart combinations of polycarbonate and polyester in ultra-tough materials

Thermoplastic polycarbonate films

High-performance polycarbonate for applications in diverse industries.
Key Benefits
Ultra-durable: Stable and resistant to corrosion, UV, weather and chemicals.
Strong: Provide high hardness, mechanical strength, and elasticity.
Sustainable: Our waterborne PU systems offer eco-friendly solutions with low VOC.
Good looking: Great optical properties with high gloss or wet look finishes.
Lightweight: Reduce the weight of vehicle components by up to 50 percent.
As automakers seek improved fuel efficiency, polycarbonate's highly formable, lightweight properties enable sleek curves and modern designs while reducing the weight of vehicle components by up to 50 percent. These enormous savings helps curb fuel consumption and hazardous CO2 emissions without compromising on passenger safety or style. From spoilers to bezels to roof solutions, our polycarbonates and PC blends support the drive for innovation in automotive exterior applications. Our polyurethane crosslinkers set industry standards for quality, strength, efficiency and value conservation as well as industrial hygiene for 2K polyurethane coatings, while their great optical properties convince design-conscious consumers. Moreover, as with the first bio-based Desmodur® eco crosslinker we made 2K polyurethane coatings even more sustainable. And our PU dispersions offer an environmentally friendly toolbox for waterborne exterior and interior coating systems.
To further customize vehicle coatings, Desmodur® based formulations can be tailored to 2D digital printing, enabling the digital application of coatings with no overspray or masking, and no compromise in weather resistance, gloss or transparency.
Glazing applications: Less weight freedom - security
We offer comprehensive product and consultation services for automotive glazing applications, from durable window encapsulation with our Bayflex® RIM system to polycarbonate for panoramic roof panels, roof bezels, backlights, and side windows. Makrolon®, in particular, possesses glass-like optical properties and a high impact resistance – but weighs over 50 percent less than common glass equivalents. Our lightweight thermoplastics help achieve better fuel economy and open up new design options not possible with glass or steel, such as complex shapes and contours.
Our Dureflex® A4700 thermoplastic polyurethane (TPU) film then makes car windows even bulletproof. This TPU film has good optical properties and excellent adhesion to glass, PC and PMMA sheets, making it a versatile interlayer to use between the various materials that make up bullet-resistant glass. It imparts toughness to the laminate, increasing the impact resistance due to the excellent puncture strength and elongational properties of the film.
Single-mold polycarbonate components: Eye-catching and lightweight designs
Durable, lightweight polycarbonates such as our Bayblend® or Makroblend® (PC+PBT; PC+PET blend) provide automotive designers and engineers with high-performing thermoplastics that enable eye-catching designs – using a single mold. Subsequent operations on molded components such as front grilles, trim parts, mirrors and bezels can be used to add matte black or metalized finishes. All of our PC grades provide excellent chemical resistance along with dimensional stability and toughness.
Polyurethane body parts: Lightweight, versatile designs with less costs
Our Bayflex® family of PU elastic systems includes molded micro-cellular foams or solid polyurethane materials that are typically reinforced with fillers. The highly impact-resistant solid variants are often used to mold high-profile body parts, especially for premium components produced in small batches, such as bumper covers, spoilers, side panels, wings, rocker panels and door panels. Bayflex® supports complex shapes for longflow parts due to its excellent thermoforming properties. It also allows for a significant cost reduction through automated RIM and shorter cycle times.
Polyurethane-based primer surfacers: Long-lasting aesthetics for automotive exteriors
Primer surfacers ensure the enduring attractiveness of automotive finishes. When a key ingredient in the mix is polyurethane, body shops and car owners can enjoy an optimum balance between elasticity (for stone chip protection) and hardness (for sandability). The balanced property profile of PU-based primer surfacers has made them an industry standard. We supply the raw materials for both water- and solvent-borne primer surfacers designed to compensate for the roughness of metal substrates and electrodeposition coating while providing reliable resistance to impacts and abrasion.
Polyurethane base coats & clear coats: Good aesthetics with a positive environmental impact
The base coat on an automotive exterior provides the actual color of the vehicle and any added effects like wet-look or metallic finishes. This requires properties such as good pigment wetting of the binder, bronze fixation, and long-term lightfastness. Our Bayhydrol® PU dispersions enable waterborne base coats with a high-level flop index and considerable potential to reduce VOC emissions. And our crosslinkers for PU clearcoats are just as sustainable. In addition, they meet OEM demands for coatings that look good while resisting scratches and the effects of weather.
PU resin-based refinish coatings: Revitalizing cars with polyurethane systems
Professionally applied polyurethane systems for automotive refinishing coatings make an old car look new, which is why technical engineers, coating manufacturers and body shops typically choose PU resin-based car refinishing paints. We offer PU-dispersions for sustainable, waterborne primer surfacer and base coats as well as crosslinkers for the clear coat. Specifically, our Desmodur® polyisocyanate crosslinkers provide high-solid, fast-drying performance with low VOC. And all refinish coatings display excellent weather, corrosion and mechanical resistance - exactly the OEM-quality needed to repair and revitalize car paint.
Polycarbonate films for front modules of the future: Enabling innovative design and function integration
The front modules of future automobiles will be characterized by 3D, seamless, glass-like surfaces. We have successfully developed a series of Makrofol® polycarbonate films tailormade for precisely this purpose. A broad range of decorated or semitransparent films, it enables individualized, innovative designs and includes options for ambient lighting and signal functions.The combination of polycarbonate resin, films and coatings creates light, multifunctional parts with the desired properties for use on car exteriors, such as UV- and scratch-resistance. Additionally, film insert molding (FIM) allows the production of glass-like designs with embedded multidimensional structures that can also include light functions. Structures made with our materials can also be made transparent to radar and LiDAR radiation, as well allowing the integration of further functions, such as the embedding of heating wires for defroster function.