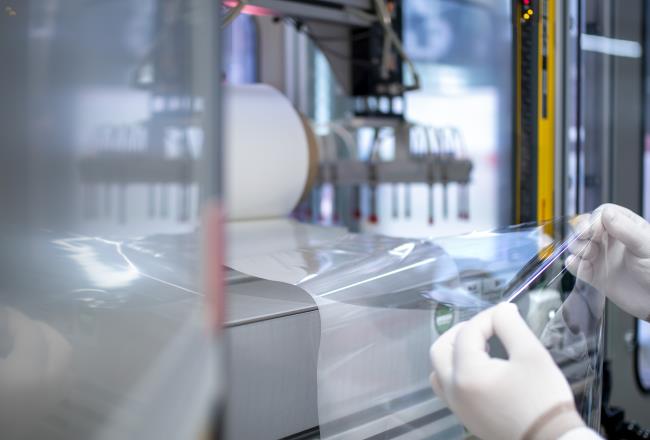 Story
Thinner than a hair: Ultrathin polycarbonate Makrofol® TF extrusion film
Ultrathin film materials such as membranes are used by a range of applications in various industries, from micro-biological filtration to automotive and electronics suppliers. We developed a new extrusion process that can deliver thicknesses as low as 15μm for Makrofol® TF films, replacing the solvent cast films used so far.
Very thin polycarbonate films are demanded in multiple industries
Industrial and automotive venting systems like in interior and exterior car lighting, flexible printed circuits, insulation films and loudspeakers all have a need for thin films, or use them to produce thin membrane materials. Depending on the specific application, the membrane itself might be a monolayer structure, laminated to a multilayer stack., The track-etch processing leads to create a micropore structured polycarbonate membrane.

Polycarbonate (PC) films bring a range of key strengths to the table here. Their inherent advantages include high homogeneity, optical clarity, and heat resistance along with toughness and elasticity over a wide temperature range. PC films also offer good stiffness and outstanding electrical insulation properties, while remaining impact resistant, making them a logical material choice for manufacturing ultrathin membranes.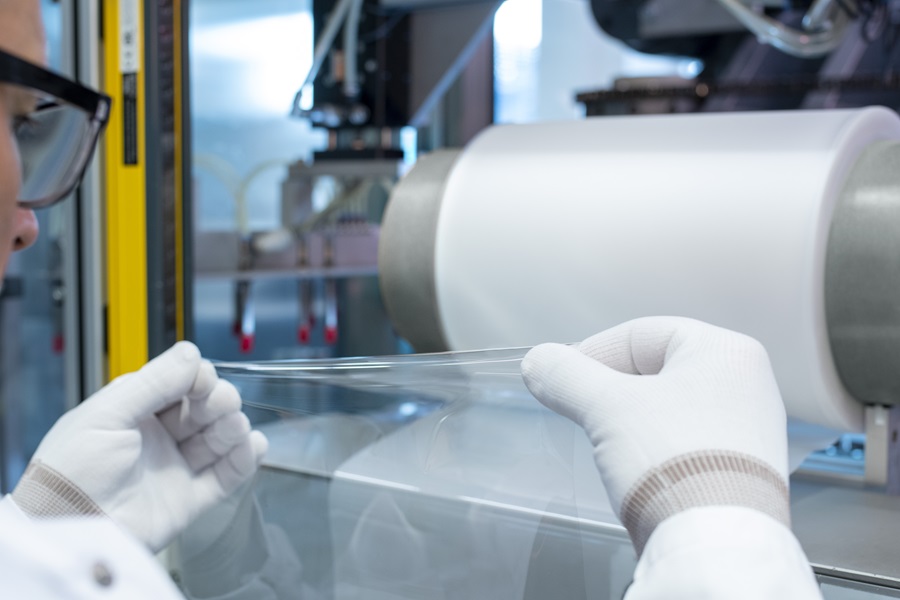 Extruded PC films for filtration and venting solutions
Extruded polycarbonate films are well-suited for filtration and analysis applications because their homogeneity and temperature resistance enables them to be used in track-etched membranes (TeMs). These thin polymer films are first beamed with heavy ions to create tracks. Then in a second step, the defined tracks are etched. This process creates a unique pore structure with smallest tolerance regarding pore size and density. The aim is to create a structure that retains a very specific type of small particle for cell biology, filtration, or microbiology analysis.
Achieving this variety in pore size and density in extruded track-etched membranes can also make them interesting for use in a wide range of venting and filtration applications.
Venting is an essential function that enables devices to run properly on a day-to-day basis. This can mean relieving pressure, allowing cooling, or protecting contents from the external environment. Effective venting is key to maximizing the lifespan of electronics and other sealed or closed systems.
In automotive use, long-term protection from outside dirt and water is essential. At the same time, retaining stable pressure compensation or providing active venting is also vital for avoiding damage to - or failure of - electronic components. Their stable functioning depends on being able to prevent either leakage or the entry of external media.
However, traditionally PC films produced with extrusion technology have been limited by their achievable minimum thickness. Until now, ultrathin PC films for membranes with a thickness of 15μm have only been produced using solvent cast film technology.
Our new proprietary extrusion process means that Makrofol® TF specialty films can be as thin as 15μm, or one-fifth the thickness of a human hair. These tear- and temperature-resistant ultrathin PC films are particularly well-suited for micro-biological filtration, electrical insulation and loudspeaker applications.
Innovation in PC extrusion unlocks ultrathin Makrofol® TF films
Our new proprietary thermoplastic technology paves the way for creating ultrathin PC films using extrusion processing. The material solution is specifically suited for analysis and diagnostics use.

At the same time, it offers a practical alternative to solvent cast technology in venting and filtration applications, thanks to the broad range of pore size and patterns that can be achieved when using extruded film for track-etched membranes.

With our extrusion technology for ultrathin PC films, membranes can also be created for use in automotive applications, with proper pressure relief, cooling and content protection performance, delivering closed system performance and the stable functioning of electronic components.

Extruded Makrofol® TF 15μm offers a uniform unstructured surface and the inherent mechanical stability of polycarbonate film along with isotropic mechanical properties and low shrinkage, making them optimal film materials for energy beaming and track-etching.
Key benefits
Ultrathin: Makrofol® TF polycarbonate films can be produced in thicknesses as low as 15μm.
Uniform surface: Extrusion processing enables one glossy side and a smooth one without structure.
Membrane-suited: Ultrathin PC films are suited for track-etched, acoustic and venting membranes.
Processable: Extruded PC films are transparent, temperature stable and are easily formed.
Proprietary: Our unique extrusion process is an alternative to solvent cast technology.