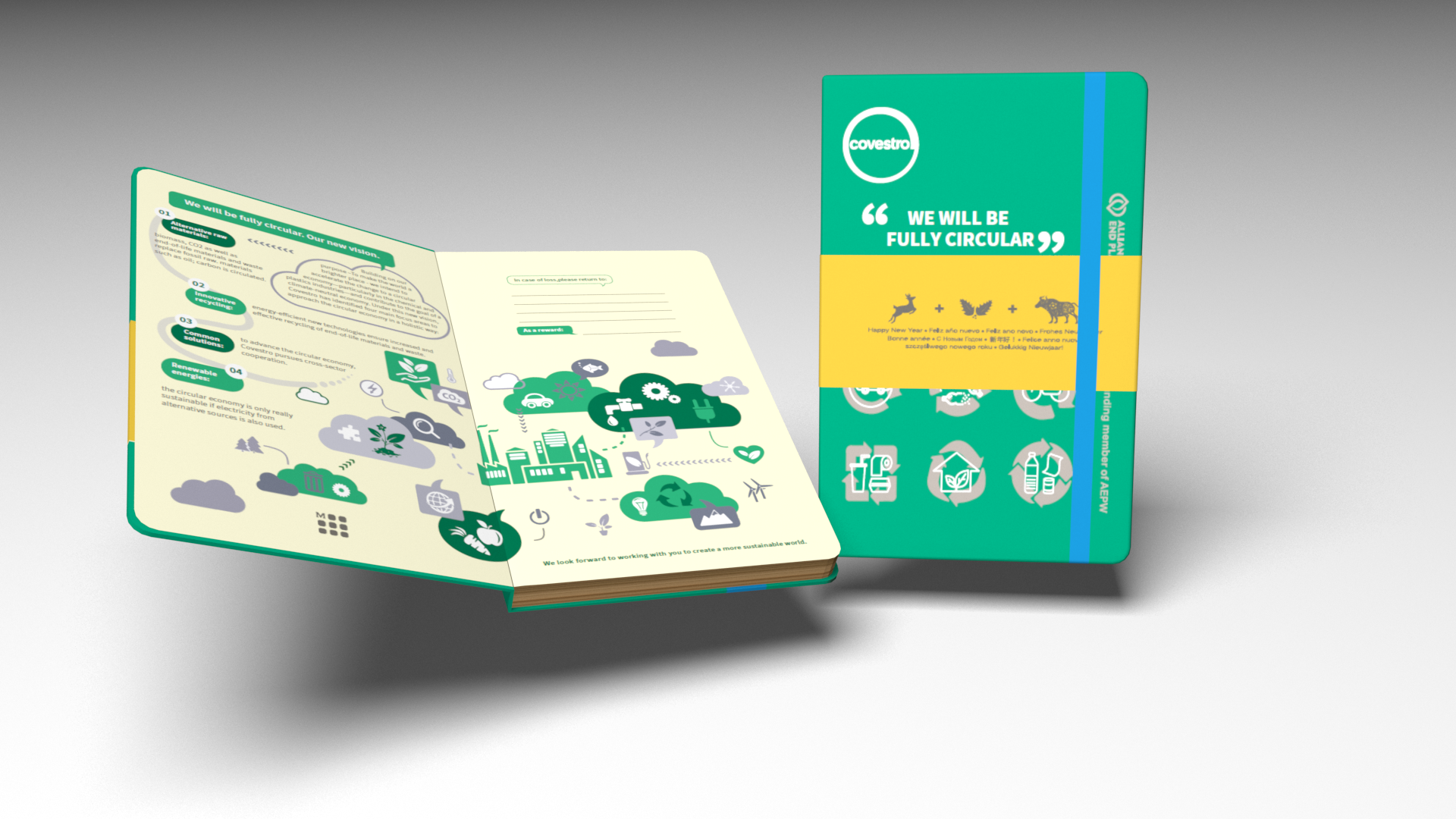 Case study
INSQIN® partly bio-based PU coatings: Moleskine® covers
The Moleskine® notebook is a modern pocket classic. Our INSQIN® partly bio-based polyurethane (PU) technology made from renewable raw materials enabled the famous brand to create a more circular and more sustainable high-quality surface coating for their distinctive coated textile notebook covers.
The Moleskine® notebook is the heir and successor to the legendary pads used by artists and thinkers from Vincent Van Gogh to Ernest Hemingway. The FSC (Forest Stewardship Council) certified company already uses environmentally friendly acid-free paper, while also making use of our INSQIN® partly bio-based polyurethane coatings for its classic notebook covers. Our task was to enhance the circularity of the synthetic textile covers by bringing partly bio-based raw materials into the surface coating.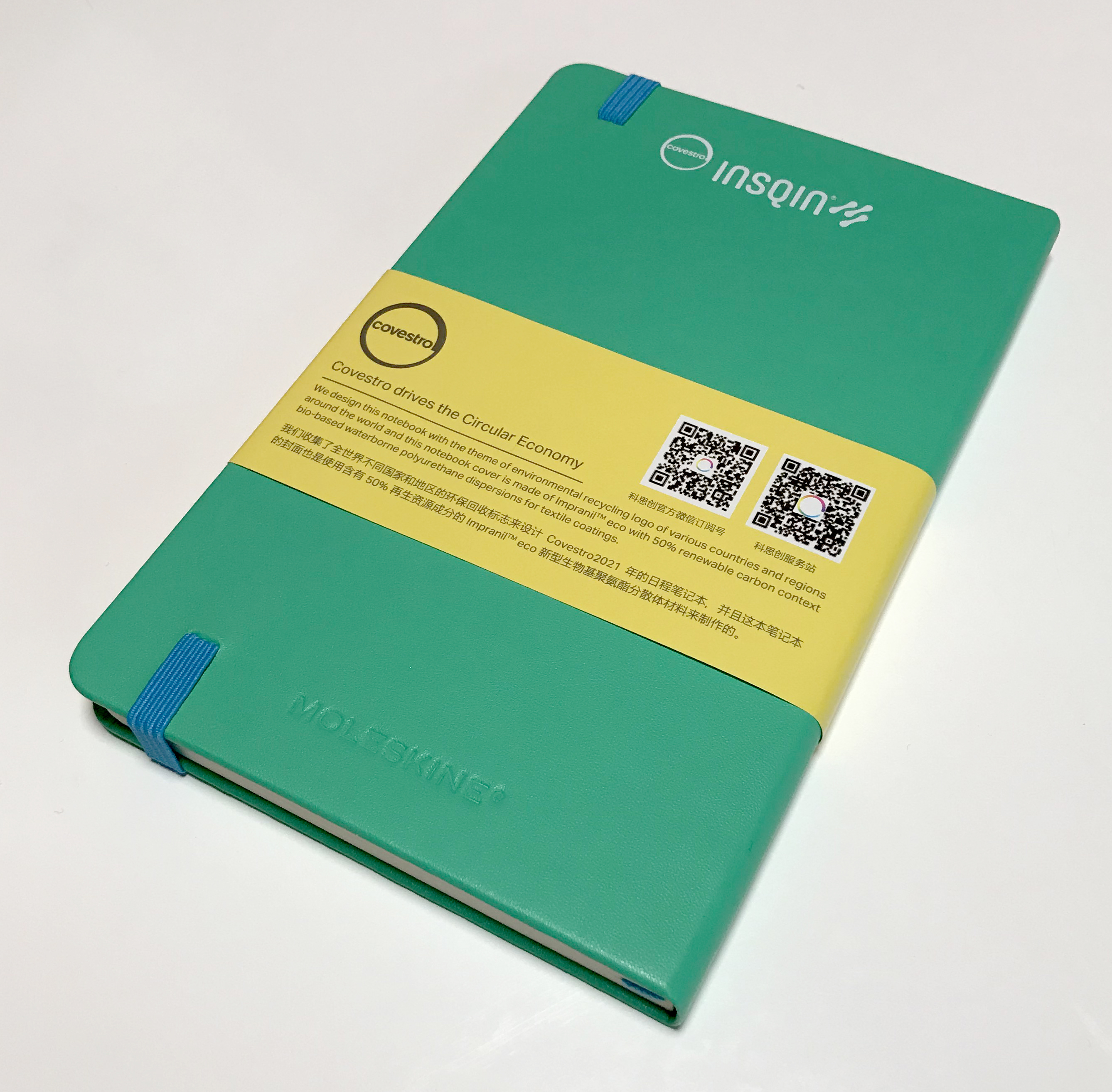 With its signature elastic closure, a Moleskine® cover must exude quality and inspire creative notes. Partly bio-based polyurethane synthetics made with INSQIN® technology from Covestro yield a textile coating with a modern look, feel and excellent performance that also contributes to a more circular economy. The challenge was to retain or surpass the characteristic Moleskine® quality while lowering the environmental footprint of the cover coating even further.
We work with innovative partners like Moleskine to develop more circular materials. With our new partly bio-based PU product with approx. 50% bio-content, Covestro enabled an approximately 23% share of renewable carbon content in total in the cover coating of the INSQIN® Moleskine notebook 2021 – echoing our aim to become fully circular.
The product is a Covestro-produced polyurethane dispersion made from approximately 50% renewable carbon content derived from non-fossil-based raw materials. By pairing this with our proven INSQIN® technology, Moleskine® and PU synthetics expert Hexin are now able to produce partly bio-based coatings for hard cover and soft cover notebooks. The coatings come with a lower carbon footprint without sacrificing quality or the classic Moleskine® look and feel.
We've been working with Covestro to perfect our new high-quality, low-VOC organic coatings for classic Moleskine® notebook covers. INSQIN® partly bio-based PU coating technology has enabled us to lower our environmental impact and enhance our sustainability.
INSQIN® brings high quality to advanced partly bio-based coatings
Lower emissions: INSQIN® is water-based PU technology, for lower emissions from VOC compared to solvent borne PU.
Premium quality: INSQIN® PU technology combines comfortable touch with a quality appearance.
Partly bio-based: The INSQIN® partly bio-based PU which was used integrates approximately 50% bio-based resources.
Circular Economy: INSQIN® uses renewable carbon as a raw material for a more circular economy.