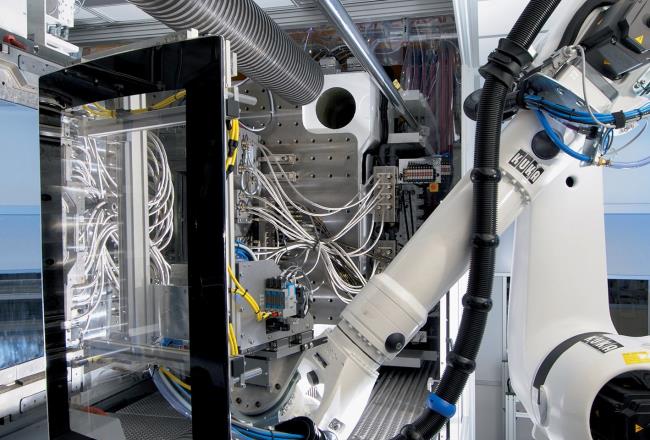 Processing technology
Film insert molding: Creating complex components in a single step
Film insert molding (FIM) enables one-step fabrication of plastic components with a decorated or functional surface. In this process, a plastic film, usually decorated by printing on the back, is shaped and trimmed before being placed in an injection mold and back-injected or over-molded with a thermoplastic resin.
A type of in-mold decoration, FIM eliminates the need for separate steps, such as coating or painting, that would otherwise be required to decorate or functionalize plastic components, even where these items are complex in shape. This offers manufacturers extensive flexibility in design and manufacturing - as well as considerable savings in costs, time and machine investment.

The decorated film used in FIM can create a huge variety of visual effects - be they multicolored, or metallic. The process also allows for integrated symbols, transmitted light design, surface impression (glossy, textured, or matte) and high gloss, which can be set selectively. Few other methods allow the decoration of parts to be changed as quickly without interrupting production, i.e. decoration can be changed by simply inserting different printed films from shot to shot. Additional properties, such as media and UV resistance, scratch and abrasion resistance, or electrical conductivity can be achieved through the use of special composite or coated films. Key elements of the FIM process include printing, forming, UV curing for coated products trimming, and back injection. Each aspect has its own unique technological considerations.
Printing: All options are on the table
The most established printing technique for the FIM method is screen printing. Printing inks used in the process need to be highly flexible and adhere well to the film due to the rigors of forming. Furthermore, the inks must be able to withstand the thermal load and shear forces of the injection molding melt. These requirements are met by Noriphan® HTR N screen printing ink from
Pröll GmbH
, which was specially developed for our Makrofol® and Bayfol® polycarbonate films. Apart from screen printing, our films can also be decorated by means of digital and offset printing.
Forming: Match an approach to your manufacturing requirements 
Cold or hot forming processes can be applied to shape films. Thanks to the high pressure forming (HPF) process, developed by Covestro and
Niebling GmbH
, a printed film can be shaped in the region of its softening temperature using compressed air, printed symbols remain in position with pinpoint accuracy. Even large components, such as center consoles for passenger cars, can now be fabricated as a single piece using this method. Another shaping technique is thermoforming. In this process, the film is heated to significantly above its softening temperature and then formed. This approach is used, for example, when decorative features do not need to be positioned with pinpoint accuracy.
Trimming: Method determined by size of your production run
Punching and steel-rule die-cutting are the established methods in volume production for trimming formed films along edges and recesses. Milling cutters or blasting (with laser or water) are used for small batch production or preliminary trials.
Back-injection (over-molding): A high-tech process with 1K and 2K options
Prior to back-injection, all dust and other contaminants must be removed from the film surface. Automated handling machines place the film in the mold to ensure reproducible and efficient production results. Back-injection can be either a one-component (1K) or a two-component (2K) process. Injection compression molding is very effective in the FIM process. Typically, clear or tinted Makrolon® or Bayblend® will be used for back injection. Overmolding of decorated film inserts with clear Makrolon® is an established technology to achieve parts with glass-like optics.