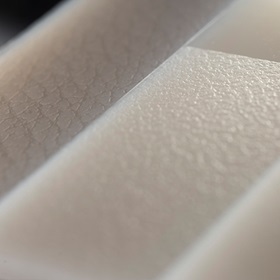 Thermoplastic Polyurethane
Desmopan®: Flexible, durable, versatile and more sustainable!
Our thermoplastic polyurethane Desmopan® offers high wear resistance, flexibility across a wide range of temperatures, and high elasticity over the entire hardness range. It also possesses excellent resistance to oils, greases and solvents as well as good resistance to weathering and high-energy radiation. In addition the Desmopan® CQ range also offers a reduced carbon footprint without compromising on quality or performance.
A thermoplastic polyurethane is characterized by a wide range of properties. Desmopan® has linear polymeric chains that consist of alternating flexible and rigid segments. The elastic segments have a low glass transition temperature while the crystalline segments exhibit a high melting point. The modification of these phases makes it possible to vary properties such as hardness, strength, rigidity, elasticity and cold flexibility. The material is also intrinsically soft, eliminating the need for plasticizers.
In addition, our Desmopan® CQ range offers exciting new possibilities to reduce the carbon footprint.
All our solutions that carry the suffix "CQ", derived from Circular Intelligence Quotient are living proof of our CE vision becoming reality: By using renewable and alternative raw materials such as feedstocks from waste or biomass – either segregated or mass-balanced feedstocks – as well as energy sources and unique chemical recycling technologies, we showcase our Circular Intelligence, offering different possibilities to reduce the carbon footprint.
Our Desmopan® CQ portfolio offers a choice between different, more sustainable solutions:
Bio-circular solutions (Desmopan® CQ MBC): Bio-circular is about mixing fossil and renewable, recycled or waste based feedstock in existing manufacturing systems while keeping track of their quantities through detailed verified bookkeeping and allocate them to specific end products.
Recycling solutions (Desmopan® CQ RC): Recycled products are made from secondary raw materials that have already gone through a product cycle and have been processed by specific procedures.
Bio-based solutions (Desmopan® CQ EC): Bio-based raw materials originate from plant, animal or algae biomass. In the case of TPU we use for example starch / industrial corn.
* Bio-based content as determined according to ASTM-D6866
Featured Products
injection molding grade; easy flowing; high scratch and wear resistance; low blooming; automotive interior applications

Partially based on renewable raw materials; with special UV stabilizers; Extrusion- and injection molding grade; good low-temperature flexibility

Extrusion- and injection molding grade; high mechanical strength; good wear resistance

Extrusion- and injection molding grade; very good hydrolysis and microbial resistance; good low-temperature flexibility; complies with VDE 0282-10; Application; Cable sheathings; Hoses, non-reinforced
Key Benefits
Durable: High wear resistance and resistant to oils and some solvents.
Flexible: Functions across a high range of temperatures.
Versatile: Variable properties such as hardness, strength, rigidity, elasticity and cold flexibility.
Intrinsically soft: No plasticizer required.
Reduced carbon footprint: Desmopan® CQ can enable a reduction in the carbon footprint