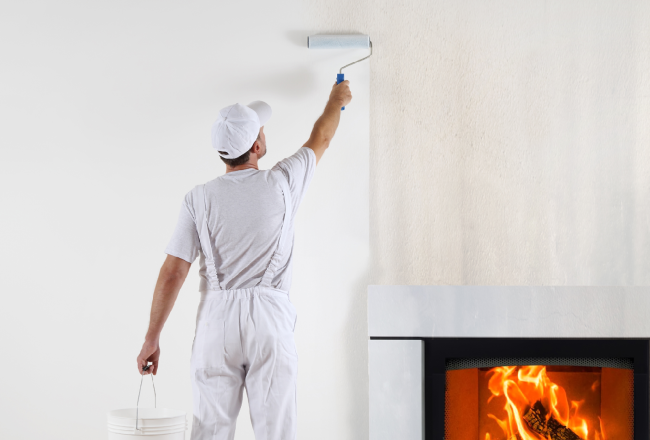 Story
Resin solutions designed for stain and smell blocking interior paint
Increasingly, consumers and painters look for stain and smell blocking interior paints that are high in performance and low in emissions. Covestro designed NeoCryl® HP-4200 and NeoPac™ HP-5081 to meet these needs. As well as stain isolation – and smell blocking for NeoPac™ HP-5081 – both resins offer scrub resistance and formulation without coalescents.
The need for more functional stain- and smell-blocking coatings
When painting their interior walls, today's decorative paint consumers increasingly look for solutions that can resist and isolate stains or smell.
Stain- or smell-blocking interior paint allows these consumers to cover stains or smells efficiently when painting, without the application of multiple layers to the wall surface.
These stain- or smell-isolating paints can be applied as a wall primer, locking in the stain or smell to prevent bleed-through. After this, the primer only needs to be covered with one extra coat for a stain -free paint finish.
At the same time, consumers also seek decorative coatings with high-performance functional properties, such as good adhesion, chemical resistance, and high gloss. They also look for coatings with more natural ingredients, such as low-VOC paints.
To create these interior paints and primers, coatings manufacturers need resins that can isolate stains and smell well.
NeoCryl® HP-4200 and NeoPac™ HP-5081: Low-VOC, stain and stain & smell -blocking resins from Covestro
To address this need, Covestro created NeoCryl® HP-4200 and NeoPac™ HP-5081. We developed these decorative primer resins to meet the need for stain isolation, more natural ingredients, and strong functional performance in paints and coatings for interior walls.
With their ability to isolate a wide range of stains effectively, NeoCryl® HP-4200 and NeoPac™ HP-5081 make painting over pre-existing stains easier – whether the stains are from grease, oil, water, smoke, or nicotine. The resins can act as a stain blocker in interior paints, primers, or topcoats on a wide range of interior wall surfaces.
In addition, NeoPac™ HP-5081 can isolate smells, such as from tobacco, in pre-existing finishes.
NeoCryl® HP-4200 and NeoPac™ HP-5081 can also help you improve functional performance in your coatings. Both solutions offer good mechanical and chemical resistance properties, and can be formulated to achieve scrub class 1. They're also stable with colorants, enabling you to create a full range of color paints.
NeoCryl® HP-4200 and NeoPac™ HP-5081 can also both be made with a formulation that doesn't use coalescents, enabling interior paints, primers, and topcoats that are very low in VOCs and odor. This also supports compliance with regulatory or labeling requirements.
"NeoCryl® HP-4200 and NeoPac™ HP-5081 enable Covestro's coatings customers to create primer, paint, or topcoat solutions that offer stain or smell blocking, along with an improved emissions profile and high-performance properties. In turn, this makes painting over stains or smells – on a wide range of substrates and surfaces – much easier for end-users."
Testing our resins stain-blocking properties
To demonstrate how well our resins can isolate stains, Covestro performed several lab tests using NeoCryl® HP-4200, aiming to ensure that they closely reflected real-world applications.
We started by painting large segments of plasterboard material to represent interior walls. We then covered each of these 'walls' with a coat of a different common stain-causing substance: felt-tip pen, highlighter, coffee, crayon, and nicotine.
After application and allowing each stain to soak into the paint, we applied a primer and a top coat of paint with a roller and allowed it to dry. We did this with benchmark paints, primers, and top coats, and those made with Covestro's NeoCryl® HP-4200 resin.

To assess how well the coatings could isolate the stain, we measured the color change between the final paint finish and an unstained area using colorimetry measurements.
The results showed that coatings formulated with Covestro's NeoCryl® HP-4200 resin could isolate stains similarly to, or better than, other benchmark stain-isolating coatings. NeoCryl® HP-4200 could isolate marker-pen stains particularly well.
Stain- and smell-isolating resin solutions for tomorrow's interior wall coatings
By combining stain blocking with lower-emission ingredients, and high-performance properties, Covestro's NeoCryl® HP-4200 and NeoPac™ HP-5081 stain-blocker resins help meet multiple painting consumers' needs. In this way, the resins can improve the possibilities for stain- and smell-blocking paints, primers, and coatings for interior walls.
Part of Covestro's advanced coating resin technology toolbox
NeoCryl® HP-4200 and NeoPac™ HP-5081 are just two of many coatings solutions available in Covestro's architectural resin technology toolbox. This toolbox includes waterborne acrylics, acrylic copolymers, acrylic emulsions, hybrids, tribrids, alkyds, urethanes, and partly plant-based resins.
Together, these solutions can enable high-performance coatings such as varnishes, aqueous paints, UV-curable paint, isolating paint, sealers, low-cure powder coatings, and more. These coatings can be used across multiple substrates in a range of interior environments, including high-moisture areas.
Key Benefits
Stain-blocking: Both NeoCryl® HP-4200 and NeoPac™ HP-5081 offer broad stain isolation.
Smell-blocking: Alongside stain isolation, NeoPac™ HP-5081 also offers smell blocking.
Labeling-compliant: With low VOC content, both resins can help you meet labeling requirements.
Scrub-resistant: NeoCryl® HP-4200 and NeoPac™ HP-5081 have a scrub class of 1.
Pigment-tolerant: Both resins have a high pigment tolerance, enabling color excellence.