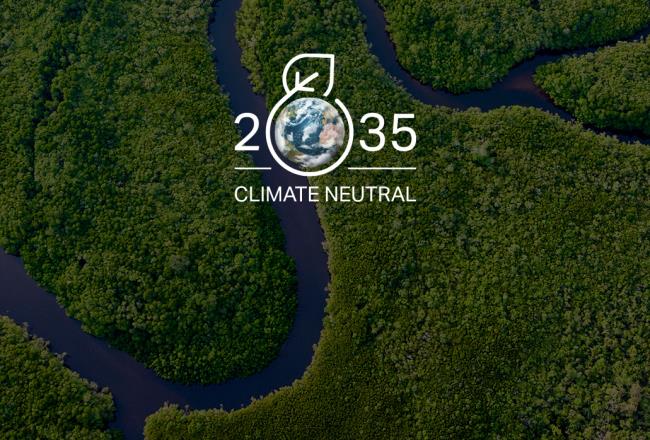 Story
On it, and still going strong. Climate neutrality by 2035*.
For almost two years, we have been working hard to fully focus on the circular economy. With this approach, we have been and continue to be a forerunner in our sector. A next milestone will be our ambitious climate goal: Climate Neutrality by 2035 for our own production (scope 1) and from external energy sources (scope 2).
Climate. Neutrality. For. Every. Single. Product.
In the long term, we want to base our entire production and product range solely on the concept of circularity and the progress of climate action. If you choose our climate neutral products, you will no longer have to spend time and resources searching for sustainable alternatives. The goal is to offer all of our products in a climate neutral version in the future.

We at Covestro are already continuously expanding our portfolio of climate neutral products in our sector. Flagship examples include the world first climate neutral polycarbonate, manufactured using raw materials from mass-balanced biowaste and residual materials as well as renewable energy.

A new addition to the product portfolio is now a climate neutral methylene diphenyl diisocyanate (MDI). It is used in large quantities worldwide as a raw material for the production of rigid polyurethane (PU) foam, a highly effective insulating material for buildings and refrigeration appliances. The new MDI grades are climate neutral from cradle to factory gate, thanks to the use of precursors derived from ISCC Plus-certified mass-balanced biowaste and residual materials.
* Climate neutral comprises emissions from own production (scope 1) and emissions from external energy sources (scope 2).
"We aim to be the first company in our industry to achieve operational climate neutrality."
Our ambitions for climate action:
Climate neutrality by 2035 for scope 1 and 2
Reduce greenhouse gas emissions by -60% by 2030 for scope 1 and 2
Every product in a climate neutral version
Be the first company in the industry to achieve operational climate neutrality
Reduction target anchored in management system