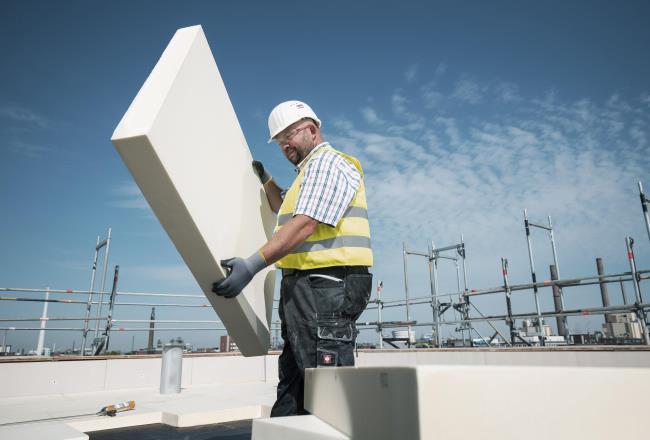 Story
Climate neutral* MDI for low-carbon building insulation
MDI is the go-to raw material for polyurethane insulation boards and sandwich panels, which can cut heating and cooling demand in buildings by up to 70%. Our new climate neutral* MDI drop-in solution uses bio waste as an alternative raw material, for high performance with lower embodied carbon.
A more sustainable construction sector: key to reaching climate targets
The construction sector will be critical to achieving global climate targets, as well as those specified in the European Green Deal. Adding more renewable energy and making building operations more efficient, especially by lowering energy consumption and emissions from heating and cooling, are already very much in focus.
Yet as the operating efficiency of buildings increases, the environmental footprint of the actual materials becomes more apparent. A holistic life cycle assessment of a building's carbon footprint is needed; an approach that covers the carbon embodied in the primary materials and the manufacturing process, not just the impact of operations. This makes embodied carbon reduction a growing topic, and a key element in the drive for more circularity in the construction industry.
Insulation has a role to play in reducing the climate footprint for both new construction and in renovating existing buildings. In fact, to meet its climate goals, Europe must retrofit much of its building stock to be more energy efficient, making effective insulation vital.
Workhorse raw material for polyurethane insulation panels: MDI
Polyurethane (PU) insulation can directly reduce the operating costs of a building, cutting the demand for heating and cooling by up to 70%, reducing emissions and lowering energy consumption – and energy bills - for residents in the process.
Methylene diphenyl diisocyanate (MDI) is an essential raw material for all types of PU insulation, including the insulation boards and sandwich panels which are used in both new construction and retrofits. Its high thermal performance means PU panels can be made thinner without any trade-off in interior comfort, leaving more usable interior space than other insulation materials. At the same time, a thinner profile means the amount of resources used in the production of the boards and panels is reduced.
Climate neutral* MDI: coupling embodied carbon reduction with high insulation performance
Our MDI is climate neutral* from the cradle to our factory gate. The critical factor: bio waste is used as an alternative raw material. This circular bio-based input is allocated to specific MDI grades using certified mass balancing according to ISCC PLUS. Our life cycle assessment or LCA methodology is based on the ISO 14040 and 14044 standards, and its calculation reflects biogenic carbon sequestration based on preliminary data from the supply chain. No compensation measures have been applied.
For insulation manufacturers, our climate neutral* MDI brings a range of advantages. It's a drop-in solution that requires no modifications to production facilities or foam formulations. Insulation that is made with climate neutral* grades doesn't require any sacrifice in performance either. Climate neutral* MDI delivers the same thermal insulation properties as traditional PU foams, reducing heating and cooling requirements by up to 70%. So a reduction in the embodied carbon doesn't mean a trade-off in operating efficiency during a building's life.
Insulation made with climate neutral* MDI can be used in new construction and in energy efficiency retrofits of older buildings, making an important contribution to the responsible use of primary resources and to significantly reducing
CO₂
emissions.
Our climate neutral* MDI is an optimal material choice for PU insulation manufacturers looking to achieve a lower carbon footprint with no trade-off in performance. The fact it is a drop-in solution means there's no need to modify production plants or to change insulation foam formulas.
Key Benefits
Low carbon: Both embodied carbon and operating emissions for buildings are reduced.
Bio waste-based: Our climate neutral* MDI uses bio waste as an alternative raw material.
Climate neutral*: ISCC PLUS mass balancing allocates bio waste-based raw materials.
PU performance: Insulation with climate neutral* MDI can cut heating and cooling by up to 70%.
Drop-in solution: Feedstock requires no modification to production facilities or PU formulations.