Story
The future of monomaterial flexibles
Recyclable packaging that protects
Concern around natural resource depletion has increased for businesses and consumers alike. In turn, this concern increases the drive toward a circular economy – where recycling is a basic fact of life. For the packaging industry in particular, recyclability is no longer a 'nice extra', but an essential.

Achieving circularity can be challenging for packaging manufacturers however, especially when it comes to flexible barrier packaging, such as retort pouches and multilayer laminate. Recycling these types of packaging often requires separating various polymers and metal foils – which can be expensive or impractical. Manufacturers face the challenge of simplifying their flexible barrier packaging. This often involves moving toward monomaterials constructed from similar, or identical, polymer grades that can be recycled as a single substance.

Nevertheless, many traditional monomaterial packaging solutions fail to deliver the levels of functional performance that consumers expect. Specifically, maintaining sufficient barrier performance – the ability to keep food or other perishable goods safe – is a key concern in reduced-material or monomaterial designs. In line with the growing need for monomaterial solutions that retain functional performance, we offer a portfolio of coating resin solutions. These enable manufacturers to replace extra material layers with thin functional coatings – enabling high-performance monomaterial packaging.
An extensive range of monomaterial solutions
To ensure barrier performance, packaging manufacturers need solutions that provide features such as sealability, heat resistance, and protection from odor and mineral oils.
Our monomaterial solutions portfolio addresses each of these needs, and includes primers and topcoats – so, whatever your requirements, we can provide a solution: primers, lamination adhesives, heat-sealable solutions, heat-resistant topcoats, protective topcoats, mineral oil barriers, organoleptic, aroma, and flavor barriers.
What is a monomaterial?
A monomaterial contains predominantly one material type, such as polyethylene (PE), Low density polyethylene (LDPE), linear low-density polyethylene (LLDPE), high density polyethylene (HDPE), polypropylene (PP), polyester (PET) or paper. (Ceflex) For plastics, this should mean over 90% of one polymer type, as this is the upper threshold when adhesives, additives, and inks are included.

On many materials, acrylic coatings are typically used to improve the surface for printing, to improve sealability and seal integrity, and to prevent scratching and improve the material's overall toughness. To be classified as a monomaterial, the material can contain up to a maximum of 5% acrylic coatings.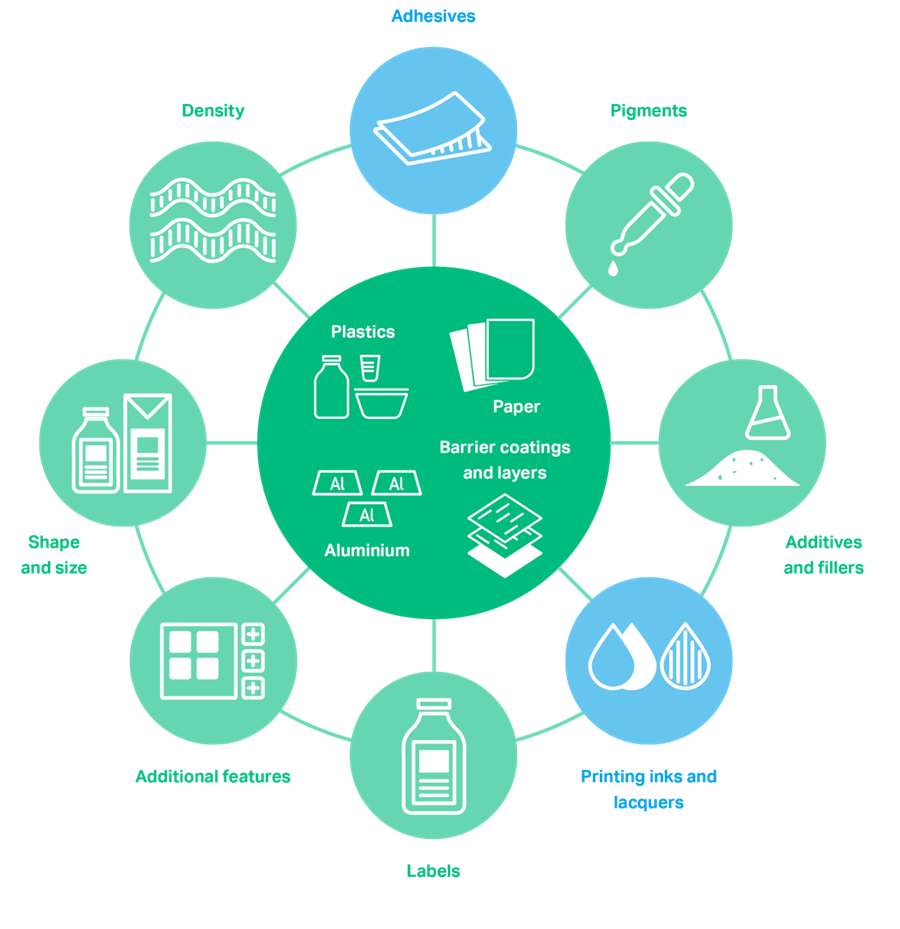 Film and flexible packaging substrates
Traditionally, monomaterials' functional performance has been particularly limited in flexible packaging, which has often relied on the use of several layers. Whatever your packaging material, we can provide a solution for you. Our coating resins can add protective features to a wide range of film and flexible packaging substrates.

Biaxially oriented polypropylene (BOPP).
Biaxially oriented polyethylene (BOPE).
Biaxially oriented polyethylene terephthalate (BOPET).
Polylactic acid (PLA).
Excellent functionality in key performance areas
Packaging manufacturers also need to ensure high functionality in areas besides barrier performance and recyclability. Our monomaterial packaging solutions offer all the key properties our customers expect, including:
Blocking free | heat-sealable | good adhesion | printable |
High transparency | surface enhancement | food contact compliance
Building on a tradition of innovation
To develop the solutions in our portfolio, we have built on our history of creating high-performance resins that meet customer and market needs. We have long been at the forefront of innovating coating solutions for the packaging sector. High-performance monomaterial packaging using the latest coating resin technology is just one example of the type of global trend we continue to help set.
And we are not stopping there: we are already developing the next generation of monomaterial solutions through our core research program. What is more, because all our innovation is guided by our customers' needs, we actively involve our customers in our R&D efforts by visiting them regularly, bringing them into technical discussions, and developing new resins together. We can also offer you solutions tailored to your precise needs – so, no matter your requirements, we have got you covered!
Our portfolio
Whether it is primer or topcoat, and whatever barrier function you need, our portfolio of monomaterial solutions has the answer you are looking for.
Primers (for topcoat adhesion or for metallization)
Primers are initial coatings applied to a substrate to improve the adhesion of subsequent layers or coatings, to increase their durability, and to provide additional protection for the substrate. In particular, primers are always required with heat-sealable coating layers, which can enable sealing on stretched and oriented BOPP and BOPET film. This is done in order to achieve the required strength and consistent adhesion.
Available grades for primers: NeoCryl® A-1127 (EMEA & NMA) (metallization), NeoCryl® BT-36 (EMEA & NMA) (metallization), NeoRez® R-605 (EMEA & NMA) and NeoRez® R-670 XP (EMEA).
Topcoats
Packaging has a long journey to make before it reaches the shelves. While being handled or transported, its protective features might be weakened through scratching, condensation, or extreme temperatures. In particular, the barrier properties of film packaging can severely deteriorate in these conditions. For this reason, the protective topcoat layers that protect the barrier are as important as the barrier itself.
Available grades for topcoats for protection/ heat-sealing or with aroma and flavor barriers/ mineral oil barrier: NeoCryl® A-1127 (EMEA & NMA), NeoCryl® A-1129 (NMA), NeoCryl® A-2092 (NMA), NeoCryl® BT-67 (EMEA & NMA), NeoCryl® BT-36 (EMEA & NMA), NeoCryl® FL-715 (EMEA & NMA), NeoCryl® FL-721 (EMEA & NMA) and NeoCryl® FL-736 XP (EMEA) and NeoCryl® XK-14 (NMA).
Adhesives for lamination
Materials can be combined to customize packaging functionality so as to suit particular characteristics of the product or environment where it will be used. This offers a lot of flexibility, and adhesives play an important role in this. It is important to keep the total amount of adhesives used below certain thresholds, to prevent it impacting upon the recyclate quality. Adhesives can reportedly cause gel formations during the extrusion process, which can reduce the recyclate quality, and block the screen filters on the extrusion line. Adhesives, such as polyurethane, acrylic, or natural rubber latex adhesives as well as non-polyethylene (PE)- or non-polypropylene (PP)-based tie layers, can comprise a maximum of 5% of the total structure's weight. The limit is to optimize the quality of the recyclate and to avoid disruption of the recycling process.
Available grades for lamination adhesives: NeoRez® PL-806 (EMEA), NeoRez® P-925 (EMEA) and NeoRez® P-900 (EMEA).