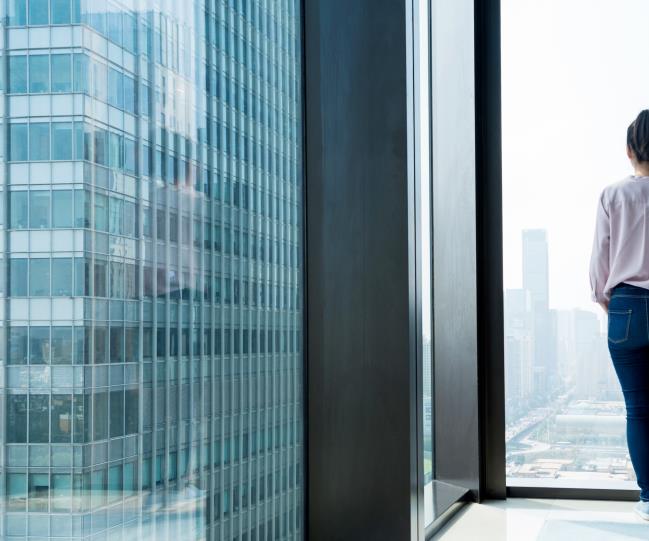 Story
Windows to the future
The demand for more energy efficient buildings in China is growing and windows will play a key role in making this happen. We have developed a range of customized Baydur® polyurethane pultrusion windows, as part of the future buildings program, initiated by China Academy of Building Research.
China's Ministry of Housing and Urban-Rural Development Regulations has placed increasingly stringent energy and emission rules on residential buildings across the country.
The 'Experimental Platform for Energy and Environment of Future Residential Buildings' program aims to help buildings reach ultra-low, near zero or zero energy consumption, in response to the Chinese government's call to make homes more energy efficient.
Energy efficient
Working with the biggest pultrusion window supplier Zhejiang Deyilong Technology, Covestro has developed three different window solutions, built to resist low temperature, strong wind and UV exposure, while making significant energy savings.
"Innovative energy efficient window solutions are in high demand in China where energy efficiency standards for buildings are becoming increasingly stringent," said Dr. Irene Li, Head of Application Development in Asia Pacific, Business Unit Polyurethanes at Covestro.
"With our global R&D capabilities and by collaborating with our partners, Covestro is committed to providing excellent and cost-effective solutions for the window industry."
Advances in technology
Our Baydur® pultrusion windows, made of a continuous fiberglass reinforced polyurethane composite with waterborne polyurethane coating, offer a reduced environmental impact compared to aluminium and PVC solutions that have been on the market for decades.
The composite is made from polyurethane and glass fiber via a close-mold pultrusion process. This gives the material its thermal insulation, load-carrying and fire resistance.
A waterborne polyurethane coating, applied to the surface of the composite profile, provides extra protection and the chance to customize it in a range of colors and designs.
Two of our designs have K values (thermal conductivity coefficient) below 1.5W/(m2•K).
The 'PU Casement Window – 65 Series' offers ultra-low heat conductivity, reliable low temperature resistance, excellent mechanical properties and an enhanced service life.
Because of similar thermal expansion to concrete, pultrusion windows don't need a wall void to allow for thermal expansion and contraction – preventing further energy loss.
The 'PU Bridged Casement Window – 65 Series' is made up of a Covestro polyurethane profile, which acts as a thermal insulation core. This allows the window to withstand strong winds.
The 'PU Casement Window – 85 Series' was also installed with a K value of 0.8, offering high energy efficiency, corrosion resistance and waterproof sealing.
In addition to the three solutions, our coatings offer further protection from weathering, UV exposure and aging.
Spreading the word
Working with Deyilong, we want to make a key contribution in this sector as an innovative polyurethane supplier with the capability of providing both the materials and the processing know-how.
We spoke at Fenestration Days China 2019, one of China's most influential industry trade shows, where more than 600 real estate developers were able to learn more about this new technology.
Dr Li added: "With the pressure on to improve energy efficiency across residential developments in China, these innovations will provide a cost-effective solution for our customers, while building a sustainable future for our communities. We will continue to collaborate with Deyilong to help contribute to the development of China's energy efficient building industry and the upgrade of the country's construction industry."
"With our global R&D capabilities and by collaborating with our partners, Covestro is committed to providing excellent and cost-effective solutions for the window industry."
Sustainable Pultrusion helps increase energy efficiency thanks to excellent heat insulation
Safe Excellent flame retardancy boosts safety in construction
Durable Pultrusion offers window applications excellent resistance when it comes to corrosion, weathering, UV exposure and aging