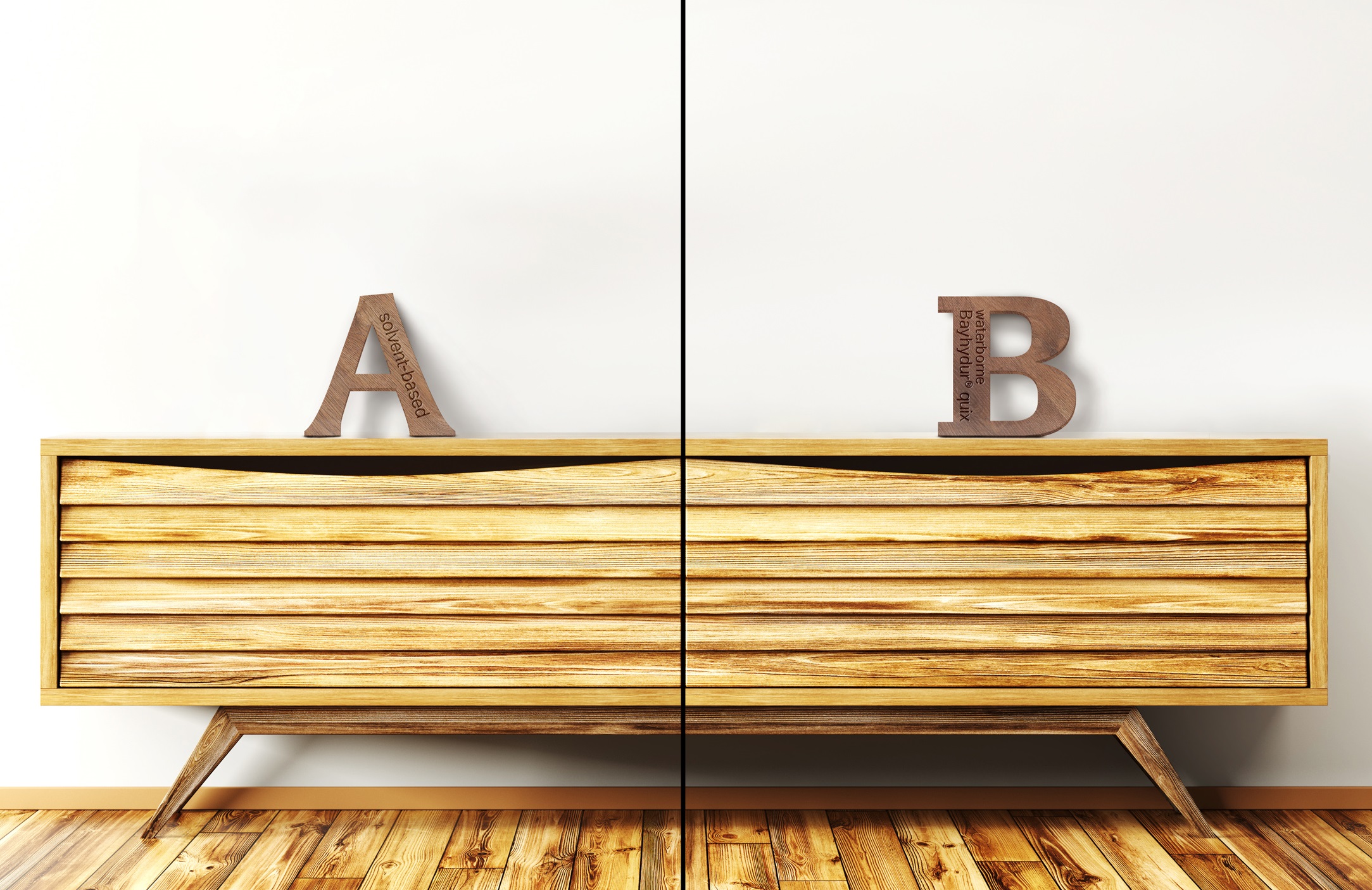 Story
Fast-drying Bayhydur® quix: low VOC technology for high-quality water-based coatings
Wood furniture makers are seeking more sustainable coatings that will not slow production or diminish quality. Our new, patented fast-drying Bayhydur® quix 306-70 hardener yields a high-performance water-based coating using low VOC technology, generating lower emissions than solvent-borne solutions.
Key Benefits
Fast-drying: Patented Bayhydur® quix water-borne hardener dries as quickly as aromatic solvent-borne hardeners.
Fewer VOCs: Bayhydur® quix uses low VOC technology, less than solvent-borne solutions.
Reduced carbon footprint: Faster drying consumes less energy, generating up to 60% lower CO₂ emissions.
Safer: Fewer VOCs and shorter processing increase safety for manufacturing staff..
Easy processing: Bayhydur® quix is a drop-in solution that requires no added investment.

Lower emissions and high productivity: a tough balance for wood furniture coatings
Production engineers and application developers in the wood coating and furniture sector face an array of challenges. In Europe and the US, the furniture-buying public is growing more environmentally aware, increasing the pressure to find low-emission coating and lacquer solutions. In parallel, regulatory requirements for volatile organic compounds (VOCs), chemicals, emissions and workplace hygiene add more complexity to the permanent drive to bring production costs down.
Wood furniture manufacturers urgently need more sustainable coating solutions that enable high productivity levels. Solvent-borne lacquers are being replaced by water-based coatings with fewer VOCs, but concerns persist that water-borne solutions take much longer to dry, consume more energy and deliver a lower quality surface than solvent-based products.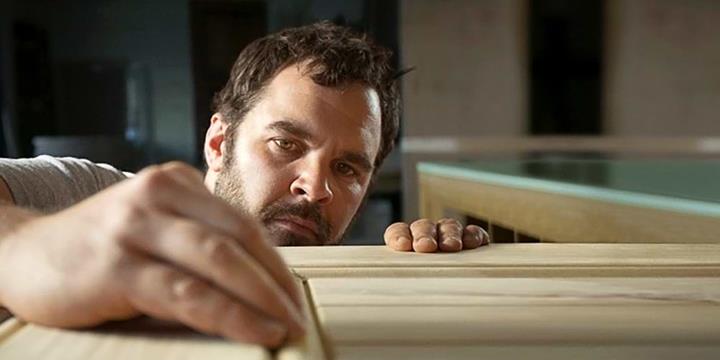 To solve this paradox, we took a "same same but different" approach; one that coats the same material and achieves the same, high quality standards while using new VOC reduction technology with water-borne hardeners.
With our Bayhydur® quix 306-70 hardener, water-borne coatings generate up to 60% lower CO₂ emissions than solvent-based solutions. For wood furniture manufacturers, this quick-drying, low VOC drop-in solution requires no extra processing time or added investment. And in the end, the final customer will see no difference in the quality of the surface finish.
Same same but different: Bayhydur® quix delivers same haptics and quality with low VOC
Our newly developed fast-curing hydrophilic polyisocyanate hardener, Bayhydur® quix 306-70, solves the furniture coating dilemma to choose between low VOC, productivity and performance. The innovative solution dries as quickly as aromatic solvent-borne hardeners, yet it lowers harmful VOC emission levels to less than 100g per liter.
The water-borne coating hardener delivers a high-quality surface finish that is indistinguishable from solvent-based ones in terms of its look and feel.
As a drop-in solution, Bayhydur® quix 306-70 hardener is easy to handle and requires no modifications to production infrastructure, providing added reassurance to furniture manufacturers and creators of carpentry and joinery applications. It also scores points with the end customers of furniture and parquet flooring for its intelligent VOC abatement and resulting lower VOC emissions - higher sustainability with no sacrifice in surface coating quality.
The customer sees no difference, but the environment does: VOC and CO₂ reduction
Working with
Hesse
, a German furniture coatings producer, we conducted a rigorous life cycle assessment (LCA) to quantify the environmental impact of low VOC coatings.
Information from our
joint study
showed that standard water-borne polyurethane systems can achieve up to 10% lower CO₂ emissions than solvent-based solutions. When Bayhydur® quix is used as hardener, that improvement rises to 25%. If renewable energy powers the drying process, the drop in CO₂ emissions compared to solvent-based coatings can reach as much as 60%.
Watch this webinar recording where our experts talk about our Life cycle Assessment study on wood coatings: