Story
Coming directly to you: Talking tech for automotive innovations
The automotive industry is constantly changing, especially as interest in autonomous and electric vehicles (EVs), user experience and brand differentiation grows. The demands of yesterday are different than the demands of tomorrow, so we're keeping up with new developments and making sure designers, tier suppliers and OEMs have the materials and technologies to match.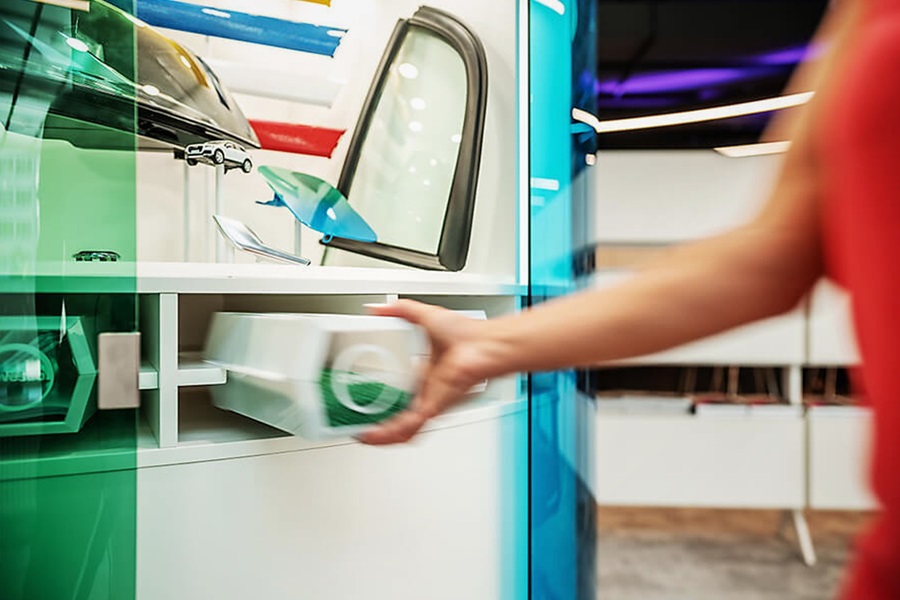 Through Tech Days tailored to specific topics, we bring the latest automotive materials and prototypes directly to designers, tier suppliers and OEMs.

Through our Tech Days, we bring the latest materials and prototypes directly to the value chain. We show companies that we don't currently work with what technology developments we can offer for their applications and help existing customers develop and enhance their current projects while learning about what they have in the pipeline.
We tailor a Tech Day experience to focus on the mobility themes that matter most to them, such as thermal management, illumination, integrated electronics, glazing, sensors and future interior and exterior designs.
During these visits, one or more of these themes can be brought to life through technologies possible with Covestro polycarbonate. For instance:
Large, interactive displays with embedded electronics are seamlessly integrated for a "hidden-until-lit" appearance.
Polycarbonate glazing that makes the most of the view.
EV batteries rely on polycarbonate for a strong, lightweight and thermally managed system.
Ambient lighting that allows each rider to customize their experience.
Thermally conductive polycarbonate for heat sinks integrated directly into lighting and electronics systems.
We also illustrate multiple interior concepts through a
virtual reality experience
that gives attendees the opportunity to jump in the passenger seat of a rideshare vehicle and experience these possibilities first-hand.
To show how we bring aesthetics and functionality to the vehicle exterior, we can share several concepts that incorporate light for illuminated and distinctive styling utilizing our polycarbonate solutions. Polycarbonate body parts can be hidden until illuminated from the backside, enabling light and communication functions on-demand. Additionally, seamless design, sensors, antennas and lighting elements are homogeneously integrated into the vehicle's smooth outer skin.
When it comes to headlamps, our thermally conductive polycarbonate offers thermal conductivity and reduced weight over aluminum.
Read our case studies on our Solution Center
to get a glimpse into the different lighting solutions we offer.
We have held Tech Days with large, small, direct and in-direct players across the value chain. A few demonstrations that have been of particular interest lately include thermal management for heat sink integration and consolidation, a light box that demonstrates a "hidden until wow" effect with edge lighting and texture, electronics integration, a front module concept and sensors that incorporate our materials for lidar and radar transparency.
Intrigued? We hope you'll consider scheduling a Tech Day with our mobility experts. We can host the meeting at our office or yours, or even digitally. Our sessions typically last a half day, but can be extended to a full day, depending on your needs. Whether you have specific challenges to address or just want to get better acquainted with our mobility solutions, we look forward to sharing market insights and technical developments that are mutually beneficial.