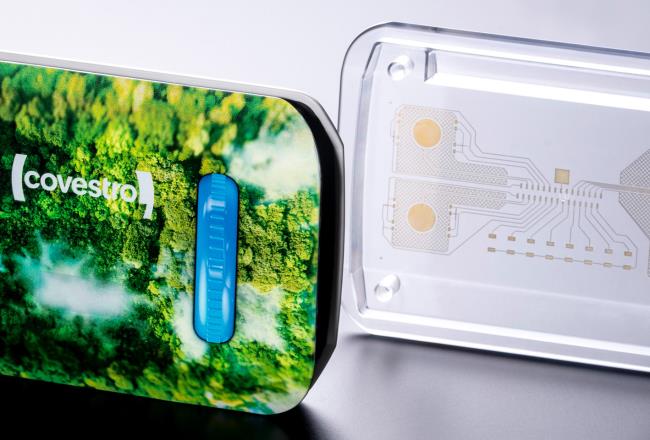 Case Study
Colibri demonstrator for printed electronics with Makrolon® polycarbonate
Make your electronic devices thinner, lighter, and smaller with smart surface technology. Together with our partner Cicor, globally active provider of full-cycle electronic solutions, we have developed the Colibri demonstrator, showcasing the power of printed electronics and light integration in enabling flexible, impactful aesthetic design.
Smart surface technology gives designers more freedom in their aesthetic choices for electronic devices – thereby growing consumer appeal and saving resources at the same time.
The Colibri demonstrator, developed by Covestro and Cicor, shows how digital printing of thin electronics on lightweight Makrolon® polycarbonate with aerosol jet technology enables easy customization and smaller devices. Printed electronics are not only translucent, but also suitable for curved surfaces, opening up new horizons in design. Different inks and graphics can be used on Makrolon® polycarbonate injection-molded parts, giving a high-quality finish. Sensors and LED lighting can easily be included, helping brands deliver user-friendly and intuitive products to consumers.
Printed electronics will be utilized in many new application areas. The use of printing technologies will help to make manufacturing processes more efficient and miniaturize electronic systems. Covestro offers in its product portfolio polycarbonate grades whose properties make them ideally suited for printing with the aerosol jet printing process used by Cicor.
Makrolon® polycarbonate provides robust protection for sensitive electronics, while mono-material assembly techniques not only make initial assembly and future upgrades easier, they also aid disassembly and recycling at end of life. The transparency of the material acts as a light guide, enabling exciting design possibilities.
We want to provide our customers with options, when it comes to functional integration. Aerosol jet printing technology represents an exciting addition to our solutions, which can help craft electronic devices which are smarter, on so many levels.
With printed electronics and light integration, electronics engineers and CMF designers across a range of industries, can benefit from our smart surface polycarbonate solution.
There are no to worry about, so surface design can reach new levels of creativity and aesthetic appeal. Printing electronics is also more efficient, in terms of streamlining both the number of resources needed and the production steps required.
But there's more: printed electronics contribute to circular design by making disassembly easier and enabling mono-material applications. Plus, with renewable attributed Makrolon® RE, part of the CQ family of circular intelligent solutions, we can help further lower the carbon footprint of your devices and support your sustainability goals.
The Colibri demonstrator highlights how you can develop compact, lightweight, and eye-catching applications, with smooth, curved surfaces that deliver an enjoyable haptic experience.
Contact us to learn more!
The small, light, and colorful Colibri demonstrator shows the potential that can be realized through smart surfaces and printed electronics. From enabling more sustainable processes, to opening up new avenues for device design, electronic printed surfaces are a game-changer for applications in the mobility, healthcare, appliances, and electrical industries.
Key Benefits
Customizable: Smart surfaces open up infinite possibilities in electronic device design.
Light-integrated: Printed electronics allow light to shine through for excellent clarity and brightness.
Smooth: Our Makrolon® range offers high-smoothness surfaces on which to print high-definition graphics.
More sustainable: This solution streamlines production steps, enables mono-material design, and supports the development of lighter, smaller devices.