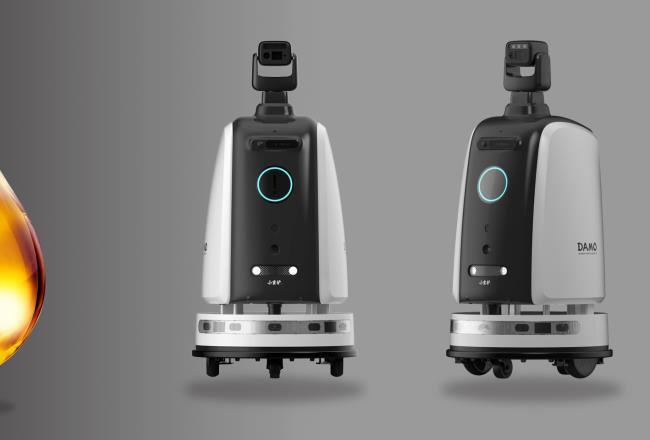 Case study
Covestro, together with partner Alibaba DAMO Academy, provides Makrolon® RE-Bio-Circular attributed PC1 for inspection robot
Covestro is providing Makrolon® RE-Bio-Circular attributed PC1 for Alibaba DAMO Xiaomanlv inspection robot. Designed to patrol in power distribution rooms, the robot ensures the safe and stable operation of power grids, so as to drive the transformation towards the intelligent and sustainable future of power industry.
Inspections are crucial part of maintenance work for stable operation of power grid. However, routine inspection can be a tedious, time-consuming, and even dangerous task for human staffs. An intelligent robot replacing human inspection effectively reduce the working pressure and avoidable mistakes of remote operators and thus save the operational cost. That's why Xiaomanlv inspection robot has come into being.
The Xiaomanlv robot is designed for constant use in harsh environments, including high heat, at minus-zero degree temperatures and in highly humid conditions. A tough and durable enclosure is desired to protect the sophisticated components inside the robot. The material used must also be more sustainable, in line with the industry's sustainability target of carbon emission reduction
"We are amazed at Covestro – their creativity in using biomass, waste and residues, and renewable energy. And we are pleased that the advanced Makrolon® RE-Bio-Circular attributed PC1 solution will be used to mass produce the Xiaomanlv inspection robots. This shows both parties have taken the first step towards a "climate neutral" goal!"
Our polycarbonate has excellent dimensional stability, durable rigidity and weather resistance. It is the right material to protect the sophisticated components inside the robot to work stably and reliably under harsh working conditions. Makrolon® RE-Bio-Circular attributed PC1 is certified by ISCC PLUS containing up to 72% sustainable share and has the same properties as Makrolon® fossil-based grades. The selected Makrolon® RE grade can achieve climate-neutral from cradle to gate2 and is supplied from Covestro Uerdingen site.
"We are proud to partner Alibaba DAMO Academy in developing this brilliant inspection robot – the first application of our Makrolon® RE-Bio-Circular attributed PC1 solution in the smart device field. Our innovative material solution matches the quality and performance of petroleum-based products, while achieving significant carbon footprint reduction of the material."


Key Benefits
Reduce Carbon Emissions: High quality, certified (3), mass balanced polycarbonates - bio-circular resources replace fossil resources
Safe and Reliable: Good dimensional stability, rigid, weather & flame-resistant.
Low Water Absorption: Excellent dimensional stability, protects robot's sophisticated internal mechanisms
Flexible Design: Low-cost injection molding meets design and mass production requirements
1 Polycarbonates with an attributed share of up to 72% bio-circular feedstock via mass balance.
2 Cradle-to-gate is an assessment of a partial product life cycle from resource extraction (cradle) to the factory gate. The Life Cycle Assessment is based on ISO 14040 / 14044, critically reviewed by TÜV Rheinland considering biogenic carbon sequestration based on preliminary supply chain data and replacing electricity grid mix with renewable electricity for Covestro, without offsetting measures.
3 ISCC Plus certified (International Sustainability and Carbon Certification)