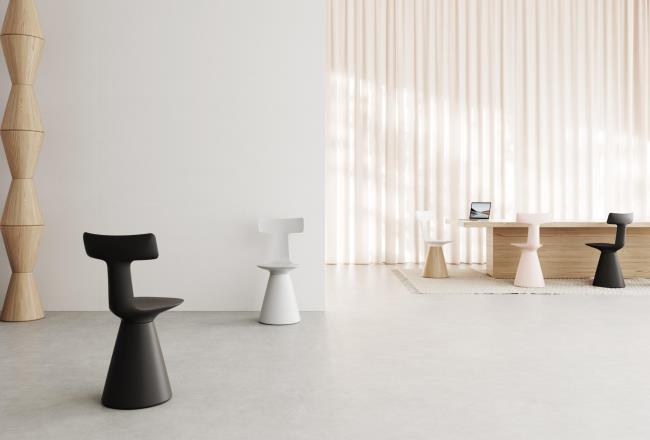 Case study
Arfinio® opens new design possibilities for solid-surface furniture
Covestro and polyurethane manufacturer Arcesso Dynamics created an injection-molded material for a chair by designer Thomas Schnur. The material has the look and feel of solid-surface materials, but without many of their limitations, opening new possibilities for furniture design.
German furniture designer Thomas Schnur was seeking the right material for a designer chair that brings a completely fresh look and feel to the furniture industry. The task was to design a modular chair base and seating shell that would offer exciting new material, color, and functional combinations. Through this designer chair, we aimed to show the potential that Arfinio® brings to all kinds of furniture design specialists.
To overcome these design limitations, we sought a material with the look and feel of a solid-surface material, but that could be produced in one piece using reaction injection molding (RIM). This method enables the development of truly seamless pieces in an industrialized way.
Developing this material was the key challenge for Covestro and polyurethane manufacturer Arcesso. Traditional RIM-produced materials are made with aromatic polyurethanes, which require a coating and are not light-stable. This makes them difficult to repair and limits their potential applications. However, until recently, RIM was only possible with this chemistry.
"This design chair is another milestone for Arfinio®. We hope it shows designers the possibilities that this technology can bring to furniture, and we're looking forward to partnering with them to bring these new designs to life!"
Together, Covestro and Arcesso were able to adapt the RIM process for aliphatic chemistry – something previously considered impossible. Using this method, we were able to create Arfinio®, a material combining the benefits of solid surfaces and injection molding, and overcoming their limitations.
Injection molding makes it easy to produce complex shapes quickly at lower cost, simply by adjusting the shape of the mold. Their truly seamless nature means these pieces have no structural weak points, making them more durable. RIM also makes Arfinio® much lighter than traditional solid-surface materials, so less material is needed per piece. In this way, furniture designers can dramatically reduce their creative restrictions.
As a monomaterial, Arfinio®-based furniture can also be collected, milled, and reintroduced into new products at the end of its lifetime, helping furniture manufacturers to 'close the loop' and improve sustainability within their industry.
"The designer chair is lighter and stronger, thanks to using Arfinio® rather than traditional solid-surface materials. This allowed us to merge function and construction with a desired form and volume. It also opened up variations between stronger and softer areas depending on the specific desired functionality. I'm interested to see how designers will use these benefits in other furniture and product applications!"
Key Benefits
Design freedom: Injection-molding process makes creating complex shapes simple
Truly seamless: Arfinio®-based furniture is made from a single material, removing weak points
Lightweight: Arfinio®-based products can be made 50% lighter than standard solid surfaces
Repairable & recyclable: As a monomaterial, Arfinio® is recyclable and can be repaired easily by sanding
Excellent haptics: Arfinio®-based furniture is warm, smooth, and pleasant to touch