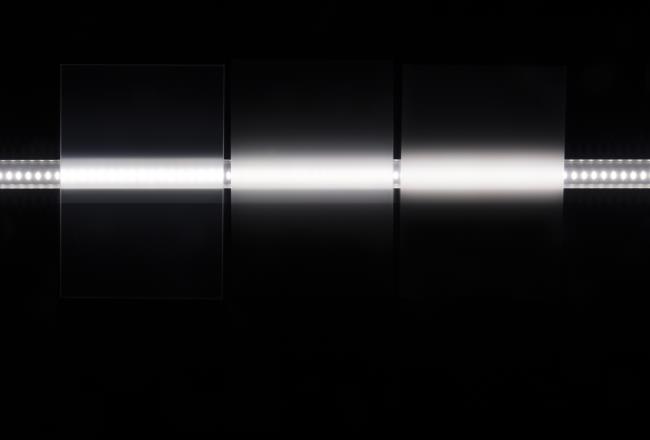 Case study
Diffusion solution: Makrolon® DQ5162 polycarbonate
With LED technology, lighting manufacturers have the freedom to design fixtures that are limited only by the imagination. The excellent diffusion properties of Makrolon® DQ5162 polycarbonate enables lighting OEM Lébénoïd to design sustainable lighting fixtures with superior lumen output.
Finding a balance between light output and diffusion can be difficult. Lighting OEM
Lébénoïd
knew the right material would help it achieve this balance. For this reason, the company searched for a single diffusion material with outstanding optical performance that could be used across its luminaire portfolio, including wall- and ceiling-mounted products.
LED technology has already led to a significant reduction in luminaire power consumption but, of course, there's always room to improve. With that in mind, Lébénoïd wanted to make its products even more energy efficient to limit their impact on the environment.
Lébénoïd reached out to Covestro, its preferred partner for engineering plastics, for its diffusion solution: Makrolon® DQ5162 polycarbonate. This polycarbonate can be used in versatile lighting fixtures with different designs, including the company's Hublot Vernosc, Réglette, Sextan and Izy. This grade of polycarbonate has the same high light diffusion strength as the current solution, but provides improved light output, which can translate into reduced energy bills for their customers.
For 10 years we've experienced continuous cooperation and innovation when working with Covestro, leading to best-in-class performance lighting fixtures.
Makrolon® DQ5162 polycarbonate: The diffusion product of choice for LED lighting
Efficacy Superior lumen output means lighting fixtures that are more sustainable
Design Fulfills the design requirements of a wide variety of lighting fixtures
Diffusion Provides strong light diffusion capability
Processing ease Offers good processability