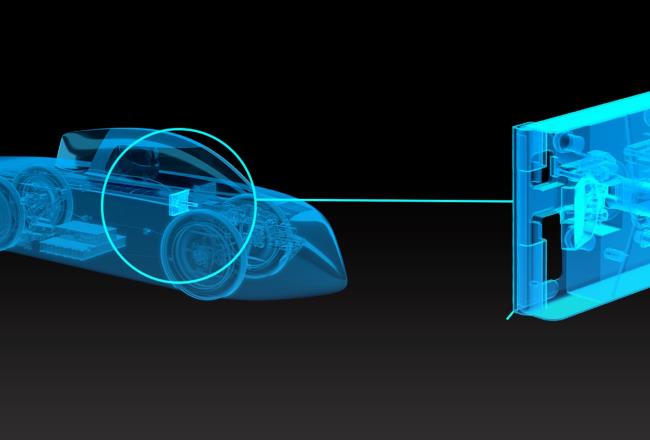 Case study
INSQIN®-based coated textile helps solar car driver take control
The Sonnenwagen will endure harsh conditions, including high temperatures, dust and sand. To help the driver get a good handle on the solar car, the steering wheel requires a high-performing material. A mechanical foamed coated textile based on our INSQIN® technology takes control.
The cockpit's high temperatures can cause the driver's hands to become sweaty, while the dust and sand outside can make the steering wheel slippery. This part needs to offer a good grip, especially since the driver is in the car for several hours each day. While the steering wheel's strength can be attributed to strong Maezio™ continuous fiber-reinforced thermoplastic (CFRTP) composites from Covestro, it also needed a durable coating to ensure the driver has control of the car - no matter what.
Given the conditions the Sonnenwagen will face, and the drive towards sustainable e-mobility solutions, the team needed a lightweight material with lower global warming potential that offered a good grip and haptics for the steering wheel.
We approached Covestro as we needed a material for our steering wheel that has a good grip and is able to withstand harsh conditions in the cockpit.
A mechanical foamed coated textile based on our water-based INSQIN® technology was applied to the Sonnenwagen's steering wheel. This material combines great performance with good haptics and increased sustainability thanks to our use of water-borne rather than solvent-borne resins. With this combination, the Sonnenwagen team is all geared up to withstand the Outback's harsh conditions.

The mechanical foamed coated textile based on INSQIN® technology provides the performance required to keep the driver in control of the car.
Why an INSQIN®-based coated textile was the right solution for the Sonnenwagen steering wheel
Lower global warming potential: PU water-borne technology enables a 45% reduction in global warming potential.
Multi-faceted: Provides superior durability, aesthetics and more.
High-performing: Offers excellent durability and hand-feel.
Highly flexible: Versatile textile coatings offer elasticity over a wide temperature range.