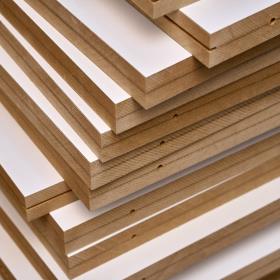 Uralac® UV: Extra-low-bake powder curing
Uralac® UV is an innovative powder-coating solution from Covestro with a very low curing time and temperature, and an excellent flow. These properties make it particularly well suited for applications on heat-sensitive substrates.
Based on an unsaturated polyester binder, Uralac® UV offers ultra-fast, ultra-low-temperature curing – at 100°C or even lower, often in under a minute.
With its semi-crystalline binder, the Uralac® UV system separates the curing from the melting process: part of the binder is crystalline during storage, but it melts before curing takes place. This separation ensures that the optimum flow can be achieved.
In turn, this results in very smooth, attractive coating finishes, whether transparent or opaque. And, thanks to their ultra-low curing temperatures, these coatings are very well-suited to application on heat-sensitive substrates, such as MDF, solid wood and engineered wood.
Key Benefits
Low-temperature curing: Can be cured at temperatures of 100°C or even lower
Extra-fast curing: Can be cured in less than a minute.
Excellent flow: Separation of curing and melting results in great flow and coating appearance
Durable: High crosslink density results in a hard coating with good stain resistance