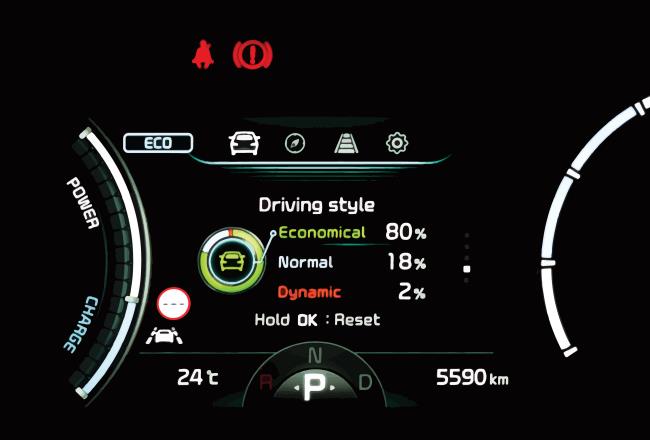 Case study
Makrofol® LM 914 enables lensless design for hybrid instrument clusters
Whether conventional, hybrid or electric vehicle, advancing digitalization requires new approaches in automotive construction and design. Forward-looking technologies and materials are crucial to ensure a smooth transition to digital applications. Makrofol® LM914 light management film is the solution of choice for hybrid instrument clusters.
LM914 is just the latest in a long line of innovative polycarbonate materials: With the transition away from traditional gauge and pointer instruments towards next-generation digital displays, the market needed an engineering grade optical film with excellent light management, anti-glare surfaces, and with a reliable global source.
Conventional instrument clusters – whether analog or hybrid - consist of two parts: a printed PC film and an acrylic cover lens. However, Visteon sought seamless integration and reduced complexity, while at the same time enabling a sleek and appealing black panel effect.

The desired solution should not only simplify assembly, but also offer attractive design with a dramatic hidden-until-lit appearance. At the same time, a low-glare and scratch resistant surface was required.
The right material solution that met all of Visteon's requirements was found in the Makrofol® LM914 film made by Covestro. This polycarbonate (PC) light management film offers black panel technology for hybrid clusters. Makrofol® LM film enables the seamless integration of displays and backlit graphics, fade effects and precisely controlled light functions.

Working closely with their major automotive OEM customer, Visteon was able to provide a state-of-the-art digital instrument cluster by engaging their long time supplier ADS US Inc. to supply cutting-edge lensless cluster appliques printed on Covestro's innovative LM914 material. Michigan based ADS is a global market leader in the supply of 2D and 3D printed appliques to the automotive, medical, & consumer electronics markets, and they have been employing Covestro's specialized polycarbonate based materials since the mid-1970s..
Makrofol® LM914 allows for a lensless design which enables more sophisticated cockpit solutions, consoles and displays that in future will play a key role – not only in the automotive industry, but also in the electronics and consumer markets.
Covestro's Makrofol® LM914 combines layers of polycarbonate and acrylic (PMMA) into one film. By adding a scratch-resistant surface to the tinted polycarbonate layer, the cover lens formerly used to protect the analog or hybrid cluster becomes obsolete. This lensless design makes the cluster more compact, so it takes up less space in the automobile and allows more freedom for designers.

Not only does this eliminate superfluous components in vehicles and the energy required to manufacture them, but also allows OEMs greater design freedom for brand differentiation. The tinted film is printable and delivers precise light transmission, high mechanical strength, scratch resistance and reduced reflections.
Applying the Black Panel Effect, the instrument cluster shows a matt, completely homogeneous surface when the displays hidden behind them are not activated. When the vehicle is started, all the telltales and different graphic colors transmit through the film at the same intensity. Finally, the driver benefits from a next-gen instrument cluster with a low-glare surface.

This example shows how well cooperation along the value chain can work – and thus leads to a result from which all parties involved benefit equally.

Further Makrofol® LM films can also be made available in a range of customer-specific thicknesses, light transmissions, and gloss levels.
What is Black Panel Technology?

With this technology, the instrument cluster is matt black when the ignition is turned off. When the car is started, only the defined/selected information appear in true colors. The black panel – the evolution of the "secret-until-lit" effect - is used in sophisticated display solutions where elegance and design are paramount and convey quality and aesthetically pleasing solution.
Key Benefits
Simplified construction: Assembly is simplified as many conventional components are no longer required
Seamless: Readily implementable; no need to alter formulations, equipment and processes
Multilayer capability: Ability to combine different materials or functional layers into one film
Design freedom: Enables homogeneous aesthetically pleasing surfaces with sleek lighting appearance
Customizable: Available in various thicknesses; thicknesses, light transmissions, and gloss levels