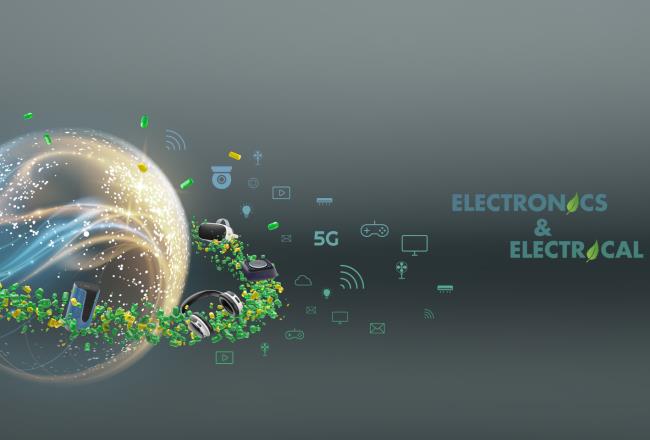 Story
Covestro Innovative Low- Carbon-Footprint Solutions Empower a New Era of Intelligent Connectivity
5G technology is driving the transformation of intelligent and connected lifestyle. From cellular base stations to smart devices, Covestro is committed to providing solutions that meet the circular economic requirements for 5G value chain players. At the same time, Covestro keeps exploring innovative recycling technologies to help manufacturers reduce carbon footprint.
The Accelerating Adoption of 5G Communication: with Challenges Come Opportunities
In the post-pandemic era, a new contact-free social pattern is emerging. People are increasingly relying on the internet for social activities, which makes intelligent connectivity applications everywhere in our daily life. 5G is at the core of communication infrastructure and is the foundation of intelligent connectivity. With the evolution of technology and the rise of the stay-at-home economy, smart devices that can be remotely controlled in smart homes, smart logistics, and smart cities are becoming increasingly popular.
The cost to realize the aforementioned scenarios is fairly high. Although the transmission of 5G signal is quite fast, its penetration capability is relatively weak. More base stations are required to ensure 5G signal performance. And the base station antenna need to be tough and robust to withstand harsh environments of heat, cold and impact.
Smart devices are also facing new challenges. Consumers are increasingly demanding for more diversified, personalized, environmental friendly electronic products. How to minimize the negative impact on the planet during the whole life cycle of end products is becoming one of manufacturers' top priority. Smart device manufacturers are expected to showcase not only functional and aesthetic excellence, but also environmental advantages in their products.
Forward-Looking Solutions for a Smarter Life
Innovative materials can offer infinite design and manufacturing possibilities. Manufacturers are able to select right materials to meet all their requirements based on the different usages and applications. As one of the leading supplier of premium polymers, Covestro provides a full range of innovative material solutions for the entire spectrum of intelligent connectivity.
In the field of new 5G infrastructure, Covestro provides durable and reliable materials for base station antenna. Covestro Makrolon® FR60XX serials offer outstanding impact resistance at low temperatures, enabling economic return for 5G manufacturers. This material series is capable of tackling outdoor challenges such as resisting extreme hot and cold weather, and ultraviolet rays. Advantage also include high rigidity, stable dimensions, flame retardancy, excellent 5G signal transmission, and light weight.
In the field of smart devices, Covestro has been working with multiple global leading players in the industry by providing polycarbonates with high PCR (Post-Consumer Recycled) contents, as well as polycarbonates with an attributed share of up to 72% renewable feedstock via mass balance approach, which can significantly reduce carbon footprint, enabling sustainability goals in various connected applications, such as smart inspection robot, smart home appliances, etc. Additionally, Covestro portfolio also fully meets requirements in acoustics, aesthetics, and environmental protection for next-generation voice interactive devices such as smart speakers.
Consumers and manufacturers are both searching for low-carbon and environmental solutions. Covestro has been exploring innovative recycling technologies and alternative raw materials solutions for a long time, and announced our fully circular vision in 2020. Under the guidance of the circular economy, our innovative solutions are giving new lives to plastic waste and replacing fossil raw materials, without compromising the material functionality and design flexibility. With these solutions, manufacturers are able to reduce carbon footprint and realize sustainability goals. Covestro is committed to the development of closed-loop recycling models with our value chain partners.
As a world's leading material supplier, Covestro is committed to the development of innovative low-carbon material solutions, enabling infinite possibilities of design in the new era of intelligent connectivity, as well as accelerating the transition towards the circular future together with our value chain partners.
Key Benefits
Low-carbon-footprint Solutions Sustainable portfolio includes polycarbonates with high PCR contents, and polycarbonates with mass balanced renewable feedstock from bio waste, which can significantly reduce carbon footprint.
Full range of material solutions a full range of innovative material solutions for the entire spectrum of intelligent connectivity