Case study
Device made with biocompatible Makrolon® reduces the risk of infection
Intravenous infusion-related infections are a growing problem for hospitals. Which is why Elcam Medical designed the Marvelous™ three-way stopcock device for administering IV fluids. The material they selected to enable the design was biocompatible, medical-grade Makrolon®.
To enhance patient safety when fluids are administered intravenously or by other means, world-leading medical equipment supplier,
Elcam Medical
needed to identify a biocompatible material for a product that prevents allergies, toxicity and carcinogenic effects infections being transmitted when administering IV fluids.
In addition to being biocompatible, Elcam Medical design team needed a material that could withstand disinfection with radiation. It would take a very special substance to properly enable the Marvelous™ (MRVLS) three-way stopcock.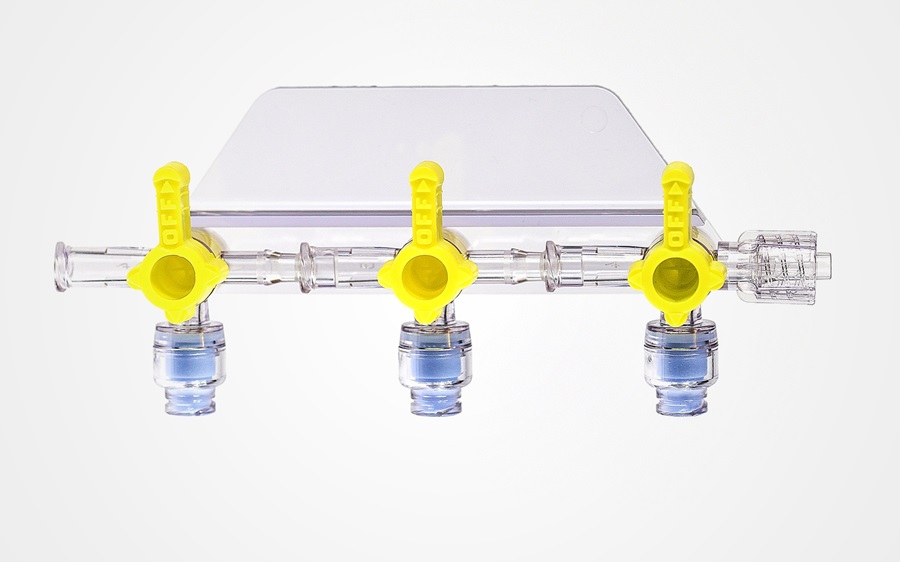 Elcam chose medical-grade Makrolon® Rx1805 for its Marvelous™ stopcock. Easily molded, transparent, and offering excellent dimensional stability, the material was an obvious choice for this precision-molded medical device. Makrolon® Rx1805 is also biocompatible, which is ideal for medical applications requiring contact with body fluids. Not least, durable Makrolon® can withstand radiation sterilization, further adding to patient safety.
Why Makrolon® Rx1805 was the right solution for the Marvelous™ three-way stopcock
Glass like transparency: Allows for visual monitoring of fluid transfer.
Biocompatible: Well-suited to applications that require contact with body fluids and infusion liquids.
Dimensional stability: Retains its original shape when exposed to heat or humidity.
Radiation resistant: Can be sterilized with high energy beams, which contributes to patient safety.