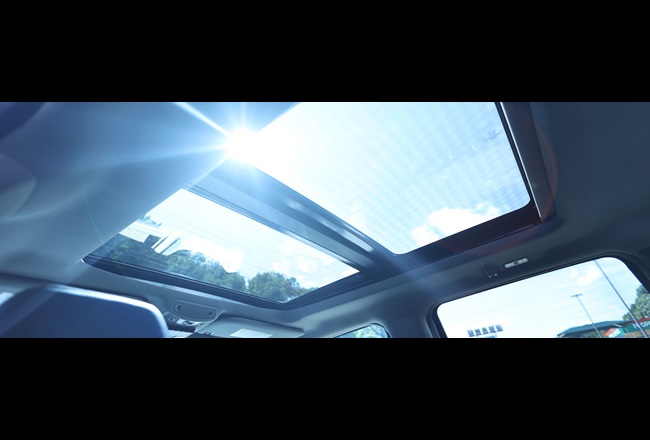 Case study
Lighting and heating embedded in a car sunroof shade
Panoramic sunroofs and moonroofs are popular in today's vehicles. We worked with Loomia in creating a concept roll-up sunroof shade that combines sun blocking characteristics of Platilon® TPU film in daylight, with integrated fabric circuitry for lighting and heating at night and in cold weather.
Large sunroofs and moonroofs are transforming modern passenger car design. Together with expansive windshields, windows and other glass surfaces, they flood vehicle interiors with light and enhance the sense of roominess. Traditionally, the size of glass sun- and moonroofs was limited by vehicle construction techniques.

Structural elements have since changed, making panoramic roofs possible. This meant automotive designers and application developers were left grappling with how to provide effective shade systems for larger sunroofs, windows and windshields in order to avoid overheating, and UV and sun exposure. Roller shades therefore replaced rigid sliding shade systems to provide vehicle interiors with protection from the sun, heat and UV rays

Conversely, at night and on cold days, when the light and warmth vanish ¬– particularly in electric vehicles that lack a heat-generating internal combustion engine – the task was to demonstrate how it is possible to add electric heating and lighting functions to a car interior shade system.
This overhead interior space of the vehicle was previously unused, so it makes sense to take advantage of this space. But taking advantage of the surface is complicated by the fact the embedded electronics in a roll-up shade must be thin and flexible, yet robust enough to stand up to repeated rolling, all without impairing the performance.
The technical challenge we faced, together with
Loomia
- a company that has invented a way to bring electronic circuits into everyday soft goods – was to seamlessly incorporate heating and lighting into a lightweight, durable fabric for a roll-up sunroof shade system that can stand up to constant use and everyday flexing and rolling.
Beyond LED lighting, the embedded circuitry would have to provide radiant heating, particularly in electric vehicles (EVs) which lack the heat from an internal combustion engine. By giving these expansive surfaces a heating function, it makes them an alternative to heat pumps. This also demanded a heat and flame-resistant solution that would still meet all traditional shade system criteria such as protection from UV rays and sunlight. Finally, the material solution had to be processable using standard lamination techniques.
Our flexible, durable Loomia electronics layer enabled this roll-up sunroof shade to integrate heating and lighting functions, exploiting an interior space that wasn't previously used. This is interesting for EV manufacturers, since it makes these large surfaces a viable alternative to heat pumps.
The solution began with our Platilon® thermoplastic polyurethane (TPU) film. TPU film remains inherently elastic and flexible at low temperatures while offering heat and flame resistance, as well as blocking sunlight.
Light-blocking Platilon® polyurethane film also offers bonding with composite fabrics, and with the Loomia electronic layer. This flexible and durable circuit layer consists of top insulation, a patterned conductor, bottom insulation and a control board with an electronic connection. The entire layer is thermally bonded to the fabric using Platilon® TPU films and standard lamination equipment.
For this sunroof demo application, the Loomia electronics layer incorporates an 11 x 11-inch positive thermal coefficient (PTC) heater that can generate temperatures of up to 140° Fahrenheit (60° C), along with ten RGB-colored LED lights. An automatic on/off function is linked to the shade's position, and the installation also has a separate physical on/off switch. The total power consumption is approximately 35 watts. Loomia electronics layers have also found use in items like car audio speakers and other applications, such as seating.
By combining composite textiles with Platilon® TPU films and Loomia's electronics layering technology, we have created a concept roll-up car sunroof shade that also functions as a lighting and heating source, allowing this formerly unused space in cars to be more fully utilized.
Opaque Platilon® TPU films make up the flexible film used in this sunroof shade demonstrator. It also helps to integrate heating and lighting functionality thanks to a strong thermal lamination bond with Loomia's electronics layer and fabric face material.
Key Benefits
Multi-functional: The concept roll-up sunroof shade integrates heating and lighting functions.
Robust: The shade with its TPU film surface can be extended and retracted repeatedly.
Sun-resistant: Opaque Platilon® film blocks sunlight and prevents vehicle interior overheating.
Space-efficient: The car sunroof shade adds a heating function to an expansive interior surface.
Cutting-edge: Lighting and heating can be combined with many surface designs and textures.