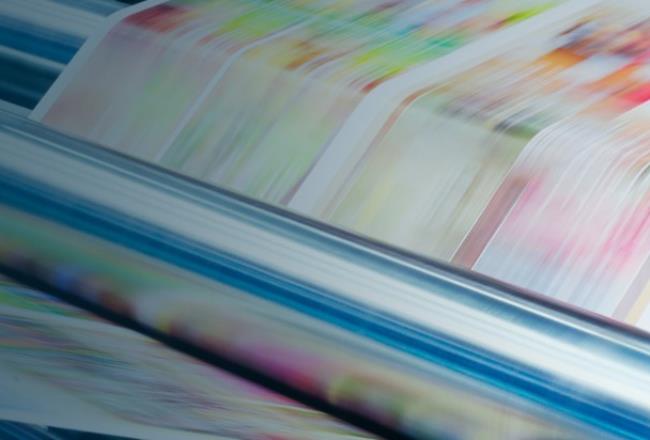 Story
Print processing
If you're a converter, Skins® based products are easy to apply as overprint varnish, and suitable for use with your current print setup (flexo, gravure or offset) so they won't slow down your productivity.
Besides, the Skins® can also be applied via an offline process – using a thermal lamination film coated with the Skins® based products. So there's always a way to apply the effect. And as well as their aesthetic benefits, they also offer practical, processing benefits such as giving extra strength and protection to the printed substrate.
Types of print processes
Skins® based products can be applied during printing with a flexographic printing press, gravure printing press or the finishing station of an offset press. Some can even be applied by screen printing.
The coatings can be applied as an all-over coat or in spots to highlight a specific area of a printed piece. They create a textured surface on the paper, plastic or carton which fills voids or irregularities on the substrate.
Applying these effects in a printing process is just like using regular overprint varnishes. They display good transfer, good wetting and excellent printability. For flexography, typical aniloxes of 100 lines per inch (lpi) and a cell-volume in the range of 11 to 18 cm3 are used for the Vel-Veeto, Rubbert and Silky Skins® effects.
Water-based, solvent-based and ultraviolet (UV) printing

Water-based
All Skins® are available in water-based versions designed for waterborne printing equipment which is the most common application method for these systems around the world. Our partners can make use of appropriate cross-linkers to increase chemical or mechanical resistance of the Skins® based coatings.

Water-based UV
Some Skins® are available in water-based-UV versions. In this case, physical drying is followed by a UV-curing process to enhance the resistance level of the layer.

Solvent-based
Especially for solvent-based flexography and gravure presses, some of the Skins® based effects are available in a solvent-based (ethanol) version. These are for specific applications or where an enhanced drying speed is required.

100% UV
To complete the portfolio - some Skins® effects are also available as 100% UV or energy-curable systems. These require screen printing to achieve the haptic effect.