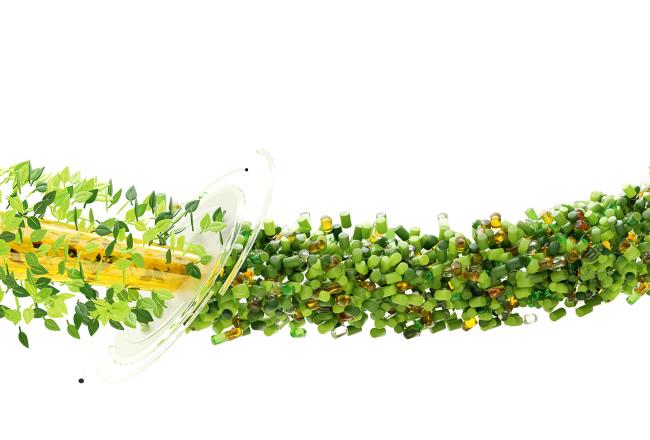 Story
Makrolon®RE enables significant reduction of CO₂ footprint
How could a more sustainable future look like? Let's use alternative raw materials that do not only come from fossil resources but take renewable raw materials and energy into account in the manufacturing process. That's how we develop particularly more sustainable plastics – climate neutral* and following the principles of circular economy.
CQ for more intelligent circular solutions
Our circular and more sustainable RE product series is part of the CQ portfolio of circular intelligent solutions from Covestro, which contribute to our vision to be fully circular becoming reality: Transforming the industry to achieve climate neutrality.

The abbreviation RE after the product name stands for renewable and reflects a huge step towards a full circular economy, while maintaining performance and quality of primary fossil-based polycarbonates.
Bio-circular attributed share is reducing the CO2 footprint
Makrolon® RE, Bayblend® RE, Makroblend® RE and Apec® RE are circular solutions from Covestro, that address the industry's requirements for low carbon footprint solutions.

Covestro uses alternative raw materials that have been assigned renewable raw materials through mass balancing as well as renewable energy and can thus be certified as having up to 89% sustainable materials and a net carbon footprint of up to zero.

Our resins are Drop-in Solutions for brands seeking high performance and best-in-class environmental performance.
Unveiling the power of polycarbonate RE portfolio's sustainable edge
If you are looking for alternative raw materials with a lower carbon footprint, the Makrolon® RE portfolio is just what you need. This RE portfolio offers the same high quality and performance as fossil-based polycarbonates.

With the introduction of a climate-neutral* polycarbonate, we are supporting our customers to make use of more circular material solutions while at the same time reducing their carbon footprint. With our RE product portfolio, we pursue the goal of offering our customers more sustainable products via a direct drop-in solution.

Our Makrolon® RE portfolio paves the way for a sustainable and climate-neutral circular economy, that is not just a vision for tomorrow, but is ready to use today.

Our products with an attributed renewable content also include our Makroblend® RE, Bayblend® RE and Apec® RE products.
RE product properties at a glance:
Transforming Industries: Makrolon RE's Impact Today
Our more sustainable CQ material solutions are not a promise for the future but are already in use today. Select the industry in which you operate and learn more about industrial applications that are already using our more sustainable material solutions today to contribute to the circular economy.
*Climate neutral according to verified life cycle assessment based on ISO 14040. Climate neutrality is proven via an assessment of a partial product life cycle from resource extraction (cradle) to the factory gate, also referred to as cradle to gate assessment.