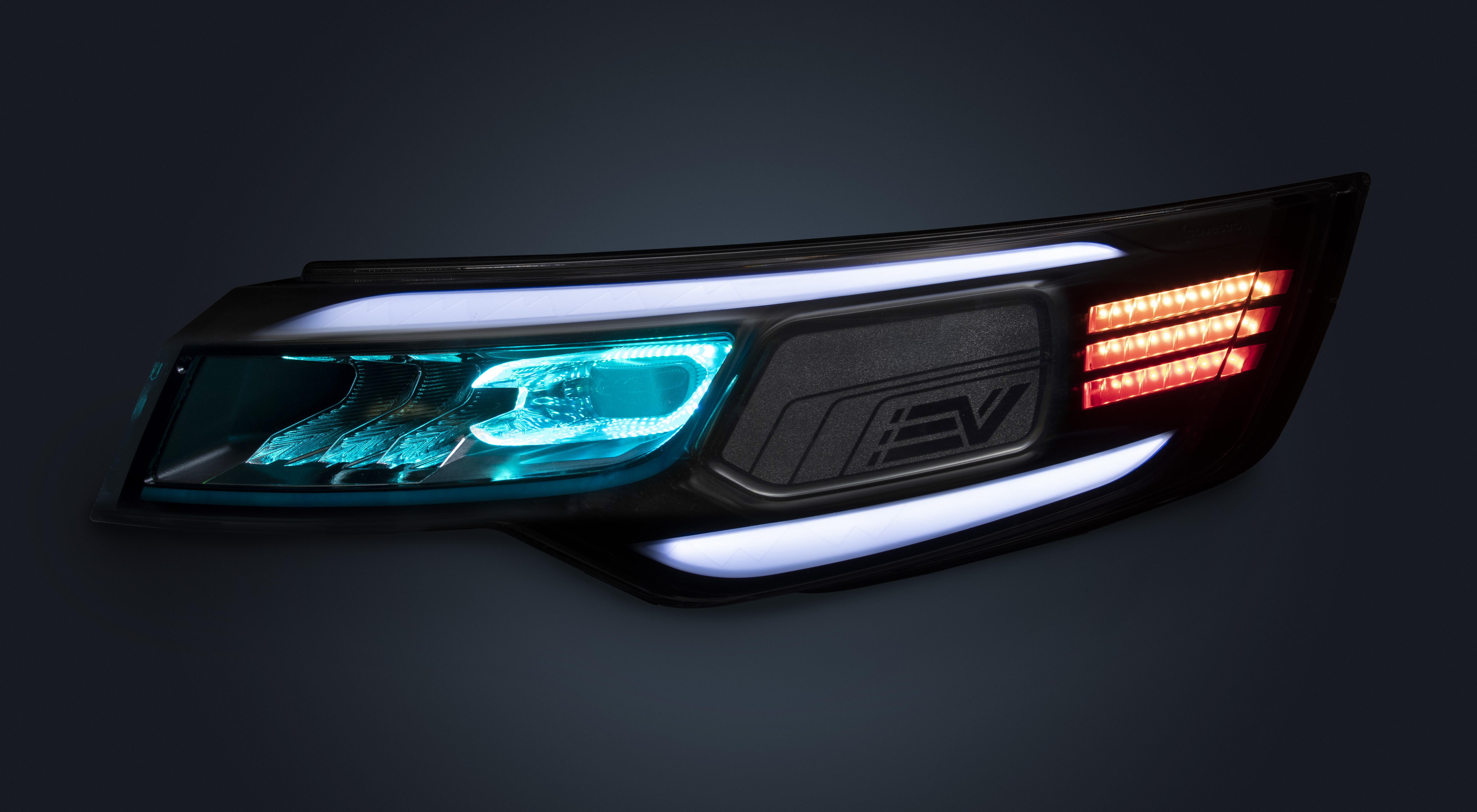 Story
Mono-material LED car headlamp designed for end-of-life and leading-edge lighting technologies
Encouraging the transition to a circular economy, we created a working car headlamp concept using only polycarbonate (PC) resins. It demonstrates how a sleek mono-material module can be easier to recycle, use fewer parts, and be lightweight, all while integrating emerging sensor and lighting technologies.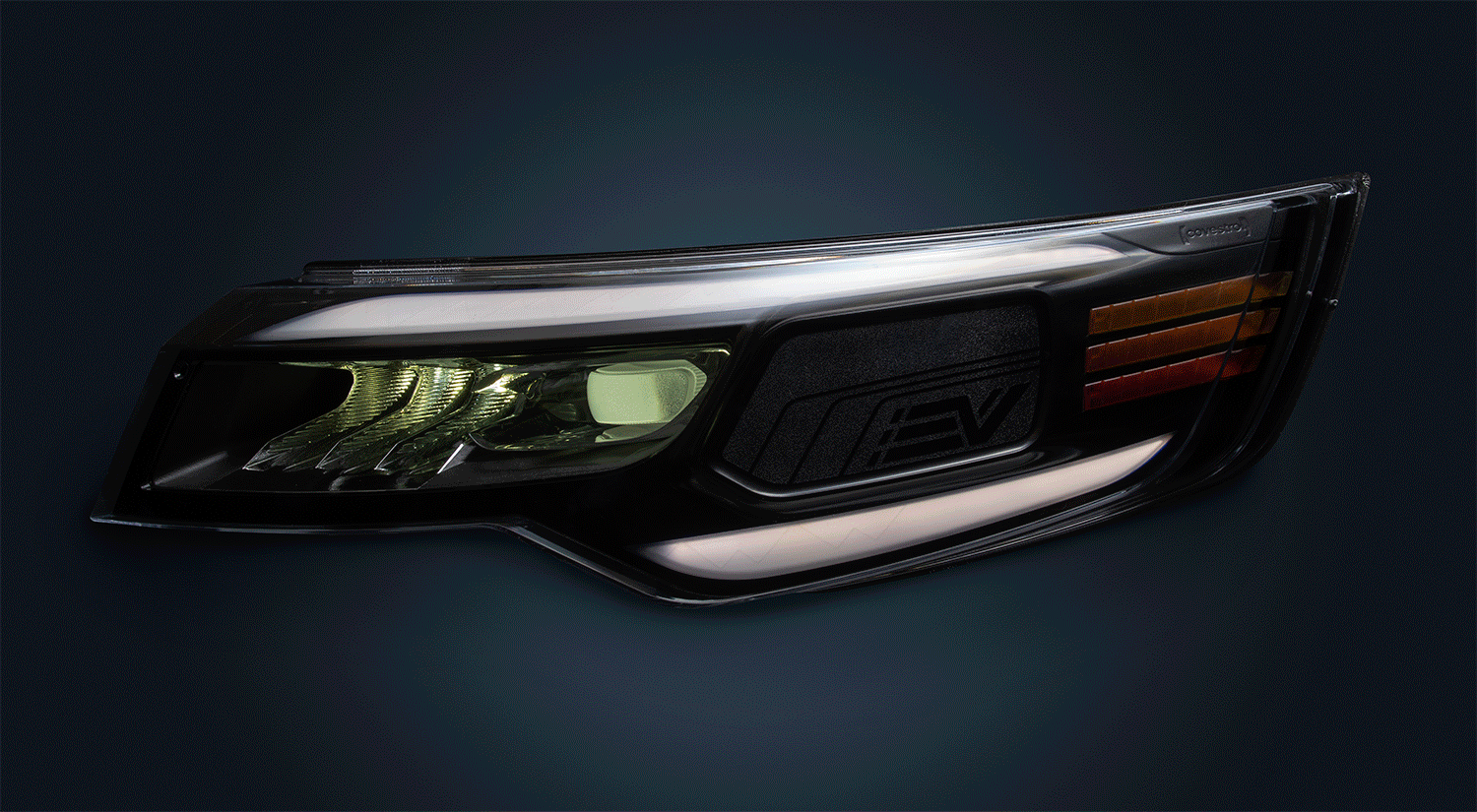 Designing end-of-life recycling into a high-tech headlamp module using a mono-material design
Designers of tomorrow's car headlamps are creating sleek new 3D forms that express brand identity and incorporate the latest smart technology. Moving to a more sustainable, circular model means designing end-of-life material recycling into car parts and applications as they take shape on the drawing board.
Our concept LED headlamp is a working demonstrator created solely with PC-based materials, in this case 6 different color and grade combinations of lightweight, robust Makrolon® along with mineral-filled Bayblend® polycarbonate + ABS blend, plus metallization and hard coatings. Compared with a typical car headlight system, this mono-material solution has fewer parts which reduces complexity in production. From the start, the module was designed to cost less, weigh less and be much simpler to recycle at the end of its useful life, supporting automotive manufacturers and suppliers who are driving for more sustainability.
Mono-material design reduces sorting, separation and storage
All parts in our cutting-edge headlamp demonstrator are made from high-value
Makrolon®
TC, DS, ST grades and
Bayblend®
polycarbonate + ABS blend. The fact that all elements share the same PC-based origin is what reduces the work of sorting, separation and storage at the end of the headlamp's useful life.
Instead of sorting materials by metal and glass types, or even by specific colors, all recyclate can be processed in a single PC-based stream, or in just two streams separating transparent from opaque raw materials. Initial testing of the recyclate PC material shows it is robust and well-suited for use in thermoplastic housings.
Lower complexity means lower costs and more sustainability for headlamp manufacturers
With over 50 fewer individual parts, our concept LED headlamp system is much less complex than comparable solutions, translating into less tooling and process operations for the manufacturer of the assembly. This directly aligns with UN Sustainability Development Goal 12, which aims to improve sustainable consumption and production patterns.
The complete headlamp demonstrator weighs 1.8 kg less than a typical headlight with similar features, which can aid the driving range of an electric vehicle or improve fuel economy. The reduced complexity and streamlined manufacturing translates to a solution that can help save costs per headlamp compared to conventional designs.
Sustainability marries leading edge style as headlamp design is transformed
Automobile design is at a crossroads, as electric vehicles begin to make the traditional front radiator grille obsolete. This paves the way for expressive headlamps and seamless styling solutions that integrate signature lighting, 3D patterns and color effects into vehicle branding. In parallel, autonomous vehicles will also demand increased safety features and sensor capability.
Our headlamp concept shows off how our Makrolon® material solutions enable dynamic and edge-lighting as well as colors, diffusion and other visual effects. At the same time, the system proves that emerging technologies such as heat management, sensor transparency, in-mold electronics, and communication with pedestrians can be achieved using cost-saving technologies such as multi-shot molding and laser welding.
Our boundary-pushing headlamp demonstrator has more sustainability designed into it. Its mono-material design permits a single PC-based recycling stream at the end of its useful life and makes its easier - and cheaper - to produce than comparable headlamp systems.
Key Benefits
Easily recycled Mono-material PC part design has a single recycling stream; less sorting needed.
Lower cost Fewer parts, cost-saving molding methods lowers average headlamp cost by a few dollars.
Lightweight Makrolon® and Bayblend® make a headlamp 1.8 kg lighter than comparable models.
Reduced complexity Concept headlamp has over 50 fewer parts, for less tooling and quicker assembly.
Stylish effects Headlamp achieves dynamic lighting, edge-lighting, dissolving color effects.