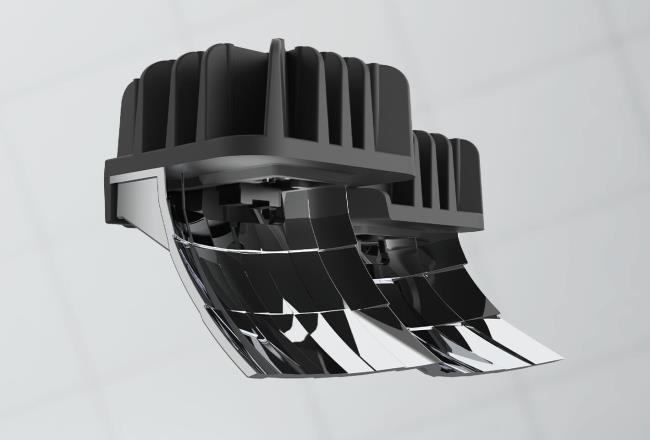 Story
Innovation meets integration in reimagined low-beam module
Covestro continues our auto innovation leadership at K 2022 by debuting a concept for a modular LED low-beam optical unit with built-in heat management. This 2K, in-mold electronics (IME) prototype reduces weight, space, cost and complexity while offering more creative liberties for cutting-edge OEMs.
Modularity and miniaturization: compact design with complex reflectors in one plug-and-play module
Covestro, in collaboration with an industry lighting leader, has developed a slim, space-saving design that is just what designers have been looking for, enabling them to achieve in-demand, low-profile styles where the headlamps are less noticeable, while mitigating heat management issues.
And, by embracing a more efficient manufacturing process — reducing parts and assembly steps — OEMs can slash costs and assembly complexity.
Less is more: Covestro consolidates parts, processes and materials
Currently, producing low-beam headlamps often requires multiple parts (six), materials (six) and process steps (four). What if there were a better approach — one that reduced the parts, materials and processes needed?
There is.
Covestro, in collaboration with industry leaders, has developed a solution for modular, slim, lightweight headlamp designs utilizing LED technology.
Remarkably, the module consists of one part, and only three material sets are required: our polycarbonates, metallization and the LED-module).
Furthermore, the prototype module requires just two process steps —two-component (2K) injection molding with IME (in-mold electronics) followed by metalizing.
What's particularly significant is that the metallization process can be completed directly after molding, with no additional surface preparation needed.
Slim and trim module reduces weight, but not performance
The 2K reflector heatsink module consists of a single part — that's five fewer parts than the typical unit. As such, our low-beam module is over 40% lighter in weight. For the heatsink alone, we achieved up to a 49% weight reduction compared to cast aluminum and for the reflector a 26% weight reduction compared to BMC (bulk molding compound).
Materials make the difference: Dimensional stability for stable photometrics
By uniting Makrolon® TC and Makrolon® DS polycarbonate grades from Covestro, designers can achieve dimensional stability for consistent photometrics. More specifically, these Covestro polycarbonates offer low CLTE (Coefficient of Linear Thermal Expansion) values that closely match each other — translating into good dimensional constancy over end-use temperature changes. Further, the materials' low mold shrinkage contributes to less warpage during injection molding.
Innovation … at your fingertips
The 2K reflector heatsink module is just one example of the many ways that Covestro polycarbonate and technical expertise come together to drive automotive ingenuity. Hop in and join us on the journey to what's next!
"We challenged ourselves to develop a low-beam module prototype that would remedy many pain points we've heard from designers and engineers whose work is focused on headlights. At this year's K Fair, we're excited to show you a functional concept that we believe addresses all of these unmet needs and then some."
Key Benefits
Heat dissipation Maintain LED-case temperature within 2-3 degrees C of cast aluminum heatsinks with Makrolon® TC polycarbonate
Innovative molding process Precision, two-shot injection molding and IME enable the heatsink, reflector and LED module to be formed in a single injection mold
Consolidation Fewer parts, processes and materials are needed to create the low-beam configuration with complex reflector
Miniaturization Compact, plug-and-play design
Cost reduction Over 20% system cost savings compared to PC reflector and cast aluminum heatsink
Smaller, lighter by design A slim, lighter weight headlamp supports sustainability goals