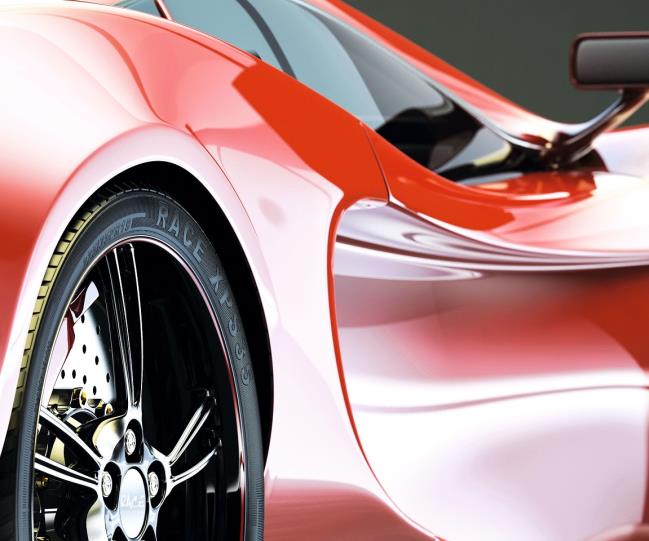 Story
Digital printing for automotive coatings: Covestro expertise contributes to pave the way
Today, automotive coatings are applied by spraying, resulting in overspray, high energy costs and the need for masking. Desmodur® based materials from Covestro enable automotive OEMs and coating suppliers to apply PU coatings using digital printing, with the quality of standard spray application.
Digital printing: transformation for automotive coatings
Today, car producers typically apply multi-layered coatings using spray application. Automotive standard 1K/2K polyurethane coatings based on Desmodur® polyisocyanates from Covestro, offer proven chemical-, scratch- and weather resistance along with high gloss and a clear, transparent surface finish. Yet, at the same time, spray application results in overspray and can add the process complexity of masking if car body parts in two or more colors are needed. Furthermore, spraying the varnish effectively prevents the continuous production of individualized car bodies.

For automotive OEMs and coating suppliers, 2D printing technology presents a major opportunity to combine the precise digital application of coatings with the flexibility of customized production. For companies considering this transformation, Covestro offers digital processing know-how along with a range of Desmodur® based automotive coating material solutions which are already optimized for 2D digital printing applicators.
Process expertise and material solutions for 2D printed coatings
Desmodur® polyisocyanates from Covestro offer tremendous formulating freedom for polyurethane (PU) coatings that provide exterior surface protection for cars, trucks, and busses. With non-yellowing, aliphatic formulations that are specifically tailored to the digital printing process, Desmodur® based coatings offer the chemical resistance, scratch resistance, and high gloss expected by automotive manufacturers. At the same time, the 2D printed coatings are weathering stable, highly transparent, and resist UV radiation.
Thanks to our expertise in both digital processing and in material solutions to match it, Covestro is a trusted partner for assisting automotive partners in taking advantage of these new coating technologies.
Working with us, automotive OEMs and their partners can calibrate a precise digital application of coatings having no overspray or masking, without having to sacrifice reliable Desmodur® protection. Covestro can assist you on the journey with process expertise and material solutions, that will meet your digital coating application needs.
"With our Desmodur® based coating solutions and our expertise in 2D digital printing technology, car makers and automotive coating manufacturers can count on Covestro as a valued partner in implementing next-generation digital coating solutions."
Key benefits
Efficient: Digitally printed coatings use material more efficiently, with no overspray.
Maskless: Printed coatings make masking steps redundant, lowering coating line investment.
High quality: Desmodur® based non-yellowing coatings offer the quality of spray solutions.
Durable: High gloss PU coatings are weather-, scratch- and chemical-resistant.
Trustworthy: Enjoy Covestro production know-how and material expertise at your disposal.