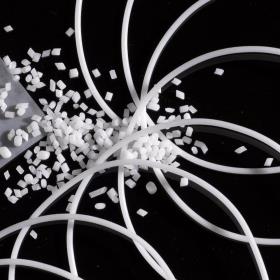 Adhesives
Foams
Films
Thermoplastic Polyurethane
Desmomelt U aliphatic polyurethane powders for adhesives
Desmomelt® U is a new class of aliphatic, non-yellowing polyurethane (PU) adhesive raw material combining high molecular weight and bond strength of solvent- or waterborne PU adhesives in a 100% solid form. Supplied as a powder, it can be processed into filament or foil for application via digital printing.
The Desmomelt® U range of thermoplastic resins is designed for adhesive applications that demand a high initial or final bond strength coupled with non-yellowing properties. This crystalline adhesive raw material is aliphatic, and Desmomelt® U powders can be supplied in a wide range of crystallization rates and molecular weights.
Desmomelt® U powders are well-suited for heat-activated bonding processes at low temperatures.
The non-yellowing material offers outstanding adhesion to synthetic and natural substrates, and can be blended to further optimize its performance for your application.
These aliphatic adhesive powders can also be compounded at low temperatures by extrusion and processed into filaments and foils. Adhesive application can then be automated with digital printing, which enables precise application even on complex geometries. The powders can also be used directly as raw materials for solvent-borne adhesives, and customized in high performance formulations to match the needs of the footwear, textile, electronics, automotive interior and furniture markets.
By uniting the bond strength of solvent- and water-borne PU adhesives with the speed and processability of hotmelts, Desmomelt® U adhesive powders simplify a wide range of automated applications including digital printing and additive manufacturing.
Key Benefits
Non-yellowing: Desmomelt® U based adhesives retain their clarity and do not yellow.
High molecular weight: Desmomelt® U based adhesives provide high initial and final bond strength.
Easy processing: From powders to filaments and foils - Desmomelt® U suits your production type.
Precision: Desmomelt® U based filaments allow precision application on complex forms.
Automation: Desmomelt® U filaments enable precise and automated adhesive application.