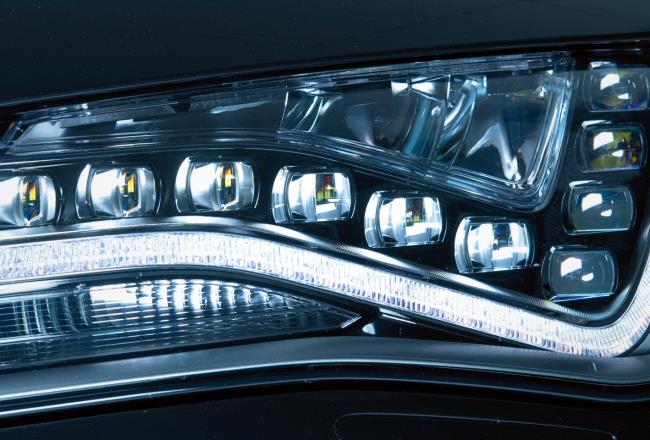 Application
Automotive lighting: Improving vehicle safety, energy usage and brand image
Polycarbonates and polycarbonate films have revolutionized automotive lighting design. Less than half the weight of glass, polycarbonate is easier to work with, gives designers way more freedom to improve functional and aesthetic design, and allows for innovation in all areas of automotive lighting.
Featured Brands
Key Benefits
Customizable: We will adapt our materials to your specific automotive lighting needs.
Expert support: We assist you in identifying the right materials and processes.
Lightweight: Up to 50% lighter than glass which contributes to improved energy efficiency.
Ultra-durable: Resistant to UV, chemicals, and long-term exposure to high-power LED.
Easy to use: Compatible with standard lens-production processes such as injection molding.
Our knowledge of materials and processes for automotive lighting allows us to assist customers in developing solutions that are lighter, more energy-efficient, and extremely durable. Thanks to our specialized polycarbonates and innovative polycarbonate, films headlamps and rear lights can now be produced in almost any shape imaginable with improved lenses and reflectors. Our tailor-made Makrolon® polycarbonate LED grades also optimize optical properties such as purity, color and stability despite continuous exposure to high-power LED-light. And when it comes to processing, we offer multi-layer injection molding technology that allows the creation of thick-walled lenses - with short cycle times and high precision.
Headlamps: Polycarbonates reduce weight and improve design
Headlamp lenses made of polycarbonates give automotive designers previously unimagined freedom and also significantly reduce component weight, when compared to glass. In addition, polycarbonate meets the toughest optical requirements for light transmission, stability at high temperatures, and resistance to LED light. And because polycarbonate lenses can be processed in almost any shape, they focus light more effectively than their glass counterparts too.
Rear lighting: Polycarbonate diffusor films meet signature look and design flexibility requirements
Our lightweight Makrofol® polycarbonate diffuser films help manufacturers to meet even the most imaginative automotive OEM lighting design requirements with innovative solutions. Clear in color, the films offer excellent light transmission and diffusion properties. These qualities improve vehicle safety and enhance design by improving a vehicle's look and hiding LED hotspots. Typically, the films are placed behind the acrylic lens cover for LED back lighting purposes. They can be easily shaped to meet signature look and design requirements with die cutting or laser cutting. Diffusion may also be enhanced with laser etching or embossed coatings.