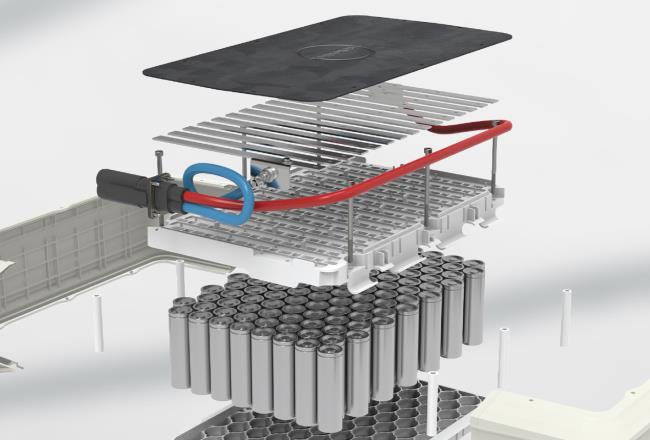 Story
Inside the polycarbonate-led design of EV battery packs and chargers
Engineers in automotive and battery-making want to build safe, reliable and cost-effective battery packs and EV charging stations. To empower them, Covestro made our own packs as proof of concept for K 2022. A virtual demonstrator also shows how polycarbonates create more durable charging stations.
Let's zoom in on where our materials are used in battery packs
When it comes to electrifying mobility, a couple of keywords describe the needs of our customers: safety and range. The wide versatility of our portfolio allows us to meet these needs and to tailor solutions to specific and changing requirements observed in the electrification market.
Within our portfolio, you'll find flame retardant and highly dimensionally stable materials, high CTI polycarbonates, color stability, low electrical corrosion, and thermally conductive grades, among other attributes.
For battery engineers, materials selection is critical if they are to create batteries with a high performance while providing safety and range to the electric vehicles.
Keeping different market requirements in mind, Covestro has designed a new high CTI-flame retardant polycarbonate material portfolio that provides resistance against surface electrical creepage. These materials are usually needed for high voltage applications where creep distance is compromised.
Our engineers and electromobility experts are ready to work with our customers on designs and specifications. We want to help you find the right material and support you along the whole ideation and execution process, including material testing, mechanical and process simulations.
"Our job is to deeply understand the challenges that EV engineers face when designing both battery packs and charging stations. Our Bayblend® and Makrolon® polycarbonate brands meet these challenges head on, so that our customers can drive into the electric future with complete confidence in the safety, performance and aesthetics of their products."
Key Benefits
Choice A large polycarbonate portfolio tailored to market and customer requirements
Easy to manufacture Materials are formable, strong and well-suited to EV components with modular design
Customization Ability to create completely new effects
Assurance Tried and tested products across multiple industries and applications
Cost Efficient processing with low scrap rates and affordable overall production costs