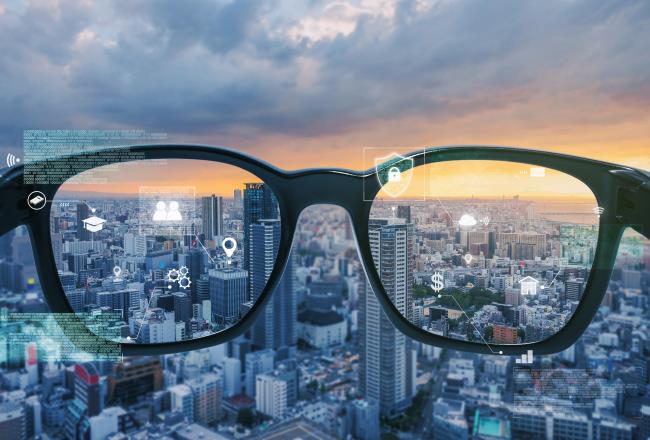 Story
Experiencing reality through holographic films for AR glasses
Augmented reality (AR) glasses immerse users in an interactive, real-world environment. These glasses call for lightweight screen materials that meet stringent optical and mechanical requirements, and our customizable Bayfol® HX holographic films fulfill these needs.
New possibilities for volume holographic optical elements
Innovative optical films technology opens the door to a new experience. Manufacturers can create volume holographic optical elements (vHOEs) with Bayfol® HX films, which make new solutions in multiple applications possible—including thin, lightweight and transparent displays, as well as light-guiding, spectral filters and anti-counterfeit products for brand protection solutions.

As a transparent thermoplastic film coated with a reactive photopolymer formulation, Bayfol® HX features highly customizable characteristics in terms of the substrate it's applied to, and in thickness and holographic performance. We understand each screen or display application is different, and can help customize the film to meet specific requirements through our comprehensive application development services.

Additionally, Bayfol® HX films—which is available in rolls of unexposed material—are a good material match for manufacturing integrated and compact combiners (either free space designs or waveguide-based designs) that need to be lightweight, thin, flat and invisible in Off Bragg conditions. Bayfol® HX also enables the mass production of volume holographic combiners for lightweight AR displays.

With this holographic film, we can continue to push boundaries in optical technologies and help create a new way to experience reality.
In mobile applications where battery life is decisive, low-energy-consuming devices can be realized with Bayfol® HX films. This is due to the distinct feature of volume holograms recorded into our film that allows a high diffraction efficiency for light guiding and light redirection, which can be tuned to almost 100%.
Key Benefits
Customizable: Bayfol® HX holographic films adapt to specific display requirements.
Expert support: Our application development team offers dedicated support.
Lightweight: Makes product light enough for end consumers to use comfortably.
Fully transparent: Enables glass-like transparency for displays.
Easy to use: Compatible with standard lens production processes, such as injection molding.