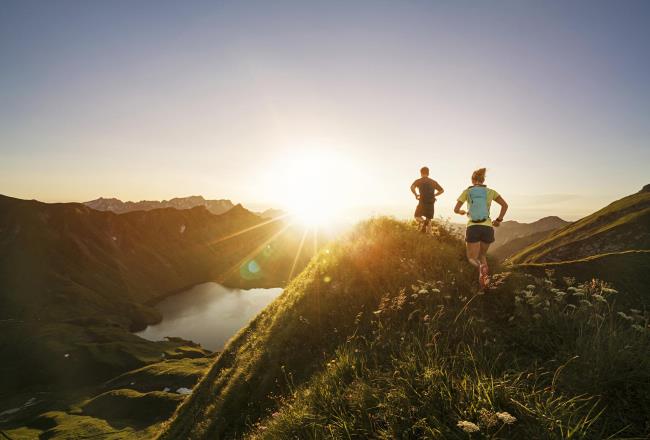 Case study
More sustainable shoes with partly bio-based PU printing
The textile industry is looking for answers on how to reduce its CO₂ footprint, for example in the fabrication of sports shoes. HUAFENG, a textile technology company, applied INSQIN® PU by Covestro as a coating binder in their HAPTIC® printing technology to get the job done.
We all love sports, but this passion comes at a price: Sports shoes and other athletic and outdoor footwear often require polyethylene terephthalate (PET) to deliver the coating durability and performance customers expect, especially in the shoe uppers.
At the same time, consumers are growing more conscious of sustainability, and circularity is becoming a factor in more and more purchase decisions. We teamed up with
HUAFENG
, a Chinese textile printing technology company specialized in polyurethane printing technology for footwear, to find more sustainable material- and production solutions for high-performance running shoes. The joint task was to increase the circularity and cut the CO₂ emissions in sports shoe manufacturing, without making any tradeoff in coating durability, comfort, appearance, or quality.
The sports footwear industry has traditionally used solventborne polyurethane in textile coatings. Driven by rising consumer demand for more sustainable products, running shoe manufacturers are already gradually switching over to waterborne polyurethane solutions, which reduces hazardous dimethylformamide (DMF) emissions, improving both climate impact and worker safety.
The challenge here was to cut the CO₂ footprint of athletic shoe uppers by combining two different technologies. Partially bio-based (see comparative reference below) INSQIN® polyurethane coatings from Covestro ensured the coatings' durability. This technology then needed to be coupled with HUAFENG's advanced
HAPTIC®
printing onto recycled PET (rPET) mesh fabrics manufactured with
CYCLONE®
yarns instead of a virgin fossil product. Uniting both techniques would lower the CO₂ footprint even further by integrating bio-based raw materials into waterborne polyurethane textile coatings, and then 3D printing these more sustainable coatings onto recycled post-consumer material.
Sustainability is the key to our market success at HUAFENG. Our HAPTIC® 3D PU coatings are high-solid and waterborne. An additive manufacturing process leads to greatest material efficiency. And still we wanted more sustainability for our high-performance coatings for athletic footwear uppers. INSQIN® partly bio-based polyurethane products from Covestro enabled us to add more renewable content to our HAPTIC® coatings. 100% recycled CYCLONE® polyester yarn is utilized in the base mesh.
HUAFENG used Impranil® CQ DLS/1 PU with 50 percent renewable carbon content from our INSQIN® range in their HAPTIC® textile printing process, which applied the coating onto recycled PET mesh fabric shoe uppers. By combining the two technologies – durable waterborne PU coating with partly renewable raw materials, and the printing onto rPET material ¬– each pair of sports shoes can save approximately 230 grams of CO₂ equivalent (CO₂e) compared to a pair of runners produced with conventional waterborne PU and virgin PET.
The use of our INSQIN® partly bio-based PU accounts for 60 grams of the CO₂ savings* achieved via advanced HAPTIC® printing technology, and the 170 grams result from the use of rPET mesh fabric produced by HUAFENG** based on CYCLONE® yarns. The solution not only provides excellent performance, appearance and comfort for sports shoe uppers, the coating durability is also uncompromised. Thanks to collaborations with forward-thinking value chain partners like HUAFENG, we are accelerating the transition to a more circular economy in polyurethane coatings.
If you'd like to look into more details, please feel free to watch a recorded webinar on our collaboration with HUAFENG and Cyclone here.
*According to internal calculations based on 3rd party reviewed study.
**According to internal calculations.
Combining our partly bio-based INSQIN® PU coating binder with HUAFENG HAPTIC® printing onto recycled PET mesh fabric demonstrates how partners in the value chain can jointly create more sustainable products. These sport shoes show a lower carbon footprint without loss in durability, touch or feel.
Key Benefits
Partly bio-based: Our INSQIN® portfolio offers products with up to 56% renewable content.
Lower emissions: A pair of sports shoes with INSQIN® HAPTIC® and CYCLONE® yarns cuts CO₂ emissions by 230 grams.
Tough: INSQIN® offers durable coating with the quality of conventional PU dispersions.
Premium finish: Partly bio-based INSQIN® coatings deliver a smooth, upscale touch and feel.
Partnership: Our work with HUAFENG is an example of the value chain partnerships we seek.