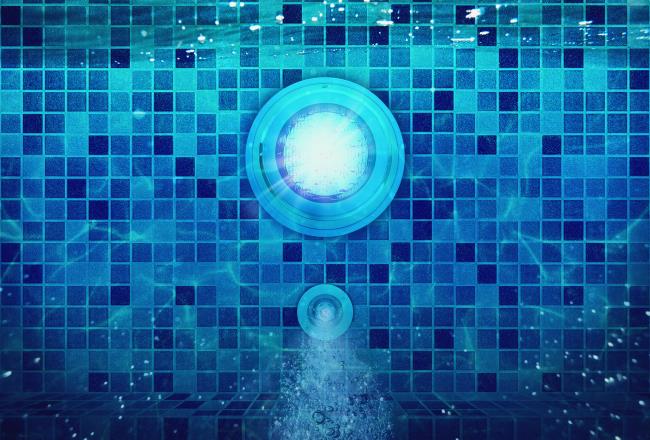 Case study
Makrolon® TC LED technology for swimming pool luminaires
There's no environment more difficult than a swimming pool when it comes to lighting and LED. Using Makrolon® TC, we teamed up with swimming pool LED manufacturer Ecopyre Lighting to find integrated heat management solutions for bright, efficient and reliable lighting without compromising on product design or weight.
Ecopyre Lighting needed a material that could perform well in a swimming pool. This meant a product requiring accurate dimensional stability during production and operation to ensure a tightly sealed luminaire that fulfils the required Ingress Protection (IP) level.
Ensuring water-proof electronics was key to the success of this project. A heat management solution was necessary not only to act as a heat sink but also to form the outer enclosure (housing) of the luminaire, thus ensuring functional integration into electronics and electrical equipment.
We selected thermally conductive Makrolon® TC611 polycarbonate as a thermal management solution. The amorphous polymer is well known for the desired high dimensional stability and accuracy. Other semi-crystalline plastics like thermally conductive Polyamide (PA), Polybutylenterephthalat (PBT) and Polypropylen (PP) demonstrate unstable dimensional properties because of post-crystallization and thus make it difficult to fulfil IP protection ratings for electronics. The high water absorption rate of nylon PA is also problematic.

Makrolon® TC611 on the other hand exhibits an excellent heat dissipation performance, managing the heat produced in the luminaire effectively. Additionally, it has passed the chemical resistance test required for use in swimming pool water.
At Covestro we have developed an all-embracing thermally conductive polycarbonate portfolio, offering alternatives that are in many ways superior to aluminum and other thermally conductive plastics in various housing applications. These applications range from medical equipment to batteries, automotive lighting or vehicle ECUs (electronic control units) and charging stations. Other applications include network devices, junction boxes, projectors, sensors, security cameras and many more.
"Collaboration with Covestro was quick and efficient. TC611 shows superior performance to aluminium in terms of heat dissipation, dimensional stability and accurance when compared to thermally conductive PA".
Why Makrolon® TC611 was a great solution solution for swimming pool lighting:
Specialized: Designed to provide high thermal conductivity for reliable and long-term heat management.
Dimensional stability and accuracy: High dimensional accuracy and stability over a broad temperature range as an amorphous plastic with high glass transition temperature (TG).
Corrosion resistance: No erosion risk even in saltwater.
Lightweight: Makrolon® TC enables up to 50 % weight reduction compared to aluminum and approximately 20% weight reduction compared to other thermally conductive plastics.
Flame retardant: Makrolon® TC fulfils Underwriters Laboratories (UL) 94 flame class rating of V-0 at 2.0 mm and at f1 listing.
Design freedom: Makrolon® TC allows you to create non-traditional shapes and optimize joining techniques, enabling functional integration between housing and heat sinks.
Improved productive efficiency: The productive efficiency of plastics injection molding is superior to aluminum die casting processes and reduces waste and scrap rates. Makrolon® TC also helps eliminate assembly steps and reduce complexity and cost.
Contribution to Sustainability: Makrolon® TC polycarbonates are a more sustainable solution compared to standard aluminum heat sinks, because they need 60% fewer resources during production and consume 75% less energy during recycling.                                                                                  *Source: Enef Institute: https://eneref.org/report-details/employing-polycarbonate-components-to-design-sustainable-luminaires/*