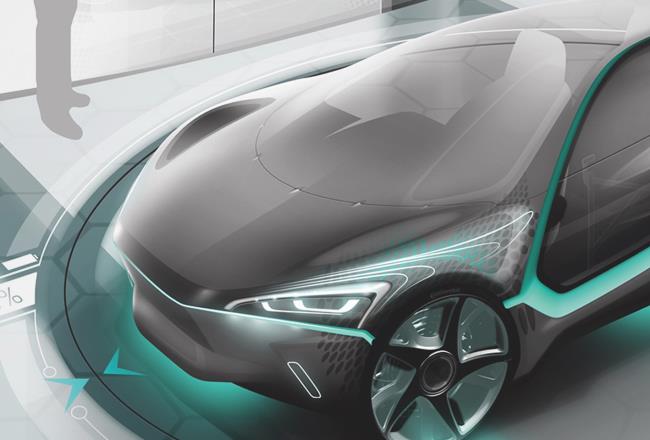 Case study
Urban vehicle concept relies on high-performance polycarbonates
Automotive manufacturers face the challenging task of creating small, lightweight and efficient vehicles for intelligent transportation systems. Our urban e-vehicle concept illustrates how innovative polycarbonates (PC) and blends can meet these demands.
We have a proven track record of collaborating with the automotive industry to develop efficient and low-cost solutions. To deepen our support for those partners and help make the future of personal mobility even more efficient and sustainable, we set out to create an entire urban e-vehicle concept based on our high-performance materials.
We went bumper to bumper to develop ready-made solutions that would convince automakers and improve the passenger experience. The challenge was to match the potential of our thermoplastics with the requirements of individual automotive components to create superior new solutions for passenger safety and comfort – and make vehicles lighter and more efficient.
Our urban e-vehicle concept integrates various thermoplastics from our portfolio – like Makrolon® AG polycarbonate glazing to replace heavy glass. Another weight-related improvement is the use of Makrolon® AG or AX polycarbonate to mold light, yet sturdy body panels. And in the area of safety and passenger comfort, our Makrolon® and Apec® high-heat polycarbonates help create energy-saving LED lighting and Bayblend® grades improve passenger safety with secure storage cases for lithium-ion batteries.
Why thermoplastics were the right solution for our urban e-vehicle concept car
Lightweight: Makrolon® offers high performance without weighing down applications.
Tough: Makrolon® and Bayblend® both offer superior toughness and impact strength.
Transparent: Makrolon® offers excellent optical quality and glass-like transparency.
Stable: Makrolon® and Bayblend® both offer excellent dimensional accuracy and stability.
Water- & heat-resistant: Bayblend® stands up to water and heat to protect sensitive batteries.