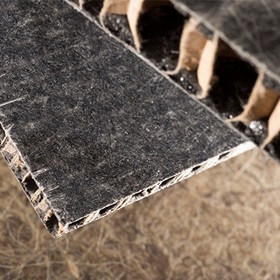 Baypreg® gives you light composites with high strength
Baypreg® polyurethane is designed for use in the manufacture of composites through compression molding. Typically, it's an efficient, low-emission process with short cycle times and the result is low-weight products with a high degree of mechanical strength.
When combined with natural- or carbon-fiber mats, Baypreg® is used to produce thin-walled interior cladding and lightweight lining components in an economical and environmentally friendly process. It also works well with paper honeycomb, or other core materials such as polystyrene, wood, plastics, aluminum, and glass. The result is lightweight sandwich combinations with good flexural and torsional stiffness. Baypreg® is typically used to produce automotive load floors and sunroofs. This versatile PU can also be used in efficient spray molding processes to achieve localized variations in sample thickness and PU concentration.
Key Benefits
Light and strong: For low weight combined with mechanical strength.
Efficient process: Short cycle times result from consolidation of production steps.
Easy processing: Self-releasing components for easy handling.
Customizable: Compatible with individual process parameters and customer requirements.
Sustainable: Manufactured with a low emission process.