Story
NeoPac™ PU-485: A new horizon for fast-drying decorative paint
Fast-drying paint coatings are the new standard in decorative paint. They are the coatings that consumers want and expect. Our NeoPac™ PU-485 makes it possible.
Consumers around the world expecting high-quality paint coatings that both protect and beautify, as well as respect the health of people and our planet. In particular, there is a growing demand for decorative, fast-drying paint systems that deliver outstanding durability and do not compromise on open time. Impossible? We do not think so. Our NeoPac™ PU-485 enables new levels of aesthetic and functional performance for decorative interior and exterior stains and trim paints. It has excellent performance with industrial wood, metals and joinery substrates.
Stand-out functional performance
NeoPac™ PU-485 does much more than just help deliver premium-look finishes to a wide range of substrates – it also enables next-level functional performance. Whether you are looking for high gloss in combination with low yellowing or excellent hardness development, this innovative resin can unlock the functional qualities you are looking for. In fact, these qualities can be delivered across a wide range of different substrates.
Easier-than-ever formulations at hand
Thanks to the innovative properties of NeoPac™ PU-485, you can say goodbye to complicated, time-consuming formulations. This resin has been designed to be formulated easily, and can be used across a range of application methods. Application methods include brush, roller or spray gun. So, whatever your formulation experience and capabilities, you can sit back and make your life easier with NeoPac™ PU-485.
Benefits of NeoPac™ PU-485
It does not matter if you are a coating formulator keen on better processes, a coating applicator looking for fast-drying solutions that offer long open times, or an end-user wanting to enjoy high-quality finishes. NeoPac™ PU-485 can add value to you – whoever you are, wherever you are.
Solvent based look & feel
Quick drying time
Very good open time
Excellent scratch & stain resistance
High gloss and low yellowing
Multi substrate adhesion
Easy to formulate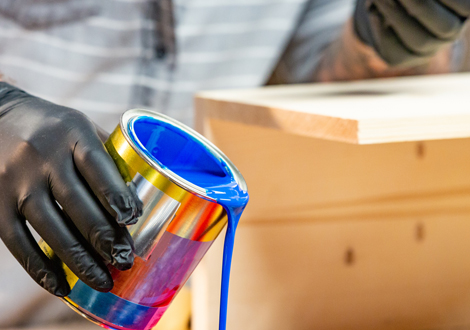 Consistency you can be sure of
Our innovative NeoPac™ PU-485 resin has been tested extensively throughout its development – both in laboratories and in field applications, over time and in different conditions. It has also been proven to deliver excellent quality consistency, every time. With this kind of reliability, you can sit back and be sure that your coating will deliver optimal performance, no matter what.
Measurable advantages over competitors
NeoPac™ PU-485 helps to ensure optimal quality consistency, prevent sedimentation and hard settlement, and is designed to outperform market alternatives across a wide range of criteria. But do not just take our word for it – third-party tests have shown that our resin performs better than competitor resins across a range of functional and aesthetic qualities.