Story
Desmopan® 6 series solutions for circular and modular footwear
The fashion and footwear industry is one of the main causes of our climate crisis. Recycling and alternative resources are the key to tackling these challenges. Desmopan® offers designers and manufacturers innovative solutions to power the circular economy in the fashion and footwear industry.
Customizable, comfortable, fashionable sandals – Desmopan® circularity benefits users and the planet
The fashion and footwear industry is one of the main causes of our climate crisis. Recycling and alternative resources are the key to tackling these challenges. The TPU Desmopan® 6 series offers designers and manufacturers such as RESLIDES innovative solutions for a circular fashion economy and customizable, modular footwear.
RESLIDES makes it possible for people to choose long-lasting and comfortable sandals for urban use, without compromising on style, comfort and performance. Inspired by the principles of industrial design, such as beauty in simplicity and functionality, RESLIDES has introduced a product on the market that sets the new normal for a future-conscious lifestyle.
RESLIDES encourages people to choose aesthetic everyday-life products which are comfortable and effortlessly customizable – based on a convincing and sincere circularity approach.
RESLIDES sandals are stylish, have a wide range of individualization options and create benefits for the user and the planet. The concept of self-assembly and the unique deposit-return system to close the loop truly stand out in the footwear industry.
"For us, Desmopan® as a specific TPU is the ideal choice for the soles of our modular sandals and circular economy concept. It provides the essential technical properties for a high-quality modular shoe and is perfectly suited for a circular process within the technical cycle of a cradle-to-cradle approach. Thanks to the cooperative and supportive Covestro team, we could build up the necessary know-how for the development of this product very quickly!"
Desmopan® bio-based TPU for innovation and circularity in the fashion and shoe industry
With TPU products that offer high wear resistance, flexibility across a range of temperatures and high elasticity over the entire hardness range, Desmopan® TPU is a step forward with creating more sustainable solutions.
Due to its very good flow behavior, the Desmopan® 6 series is perfect for injection molding and delivers numerous benefits without compromising on quality or performance.
Excellent oil, grease and solvent resiliency, resistance to weathering and, most importantly, the responsible use of materials make Desmopan® TPU attractive for fashion and footwear designers and brands such as RESLIDES who take major steps towards circular fashion and who share the same principles of slow fashion, a circular economy and minimizing the impact on people and the environment.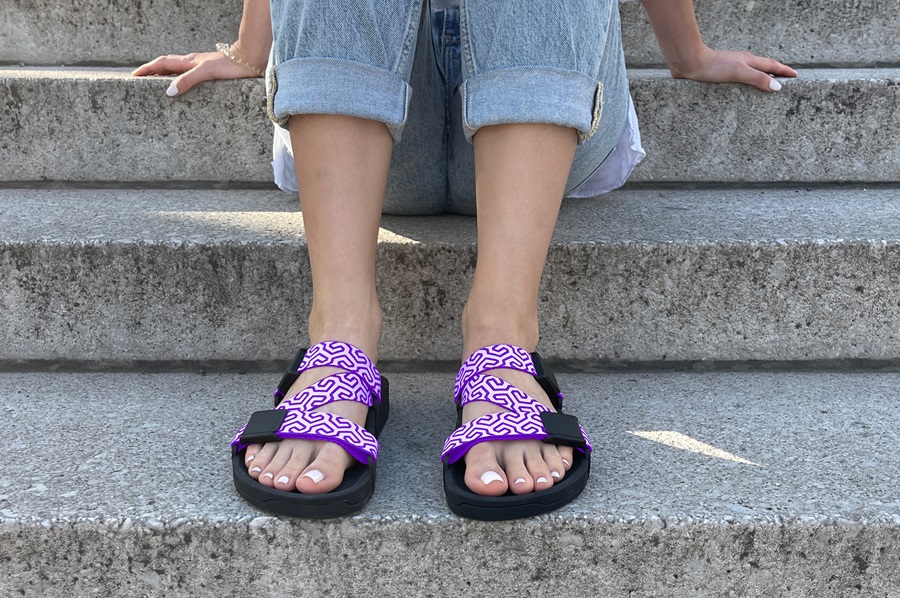 Desmopan® TPU solutions for more sustainable development goals and a lower CO2 footprint
The significance of the careful and responsible use of resources cannot be ignored. Fast fashion has shaped the image of the industry in recent decades and is a major contributor to the ongoing climate crisis.

However, making fashion more future-orientated and, ideally, circular is not easy. The footwear industry in particular is facing enormous challenges as the components and high-performance requirements of previous developments cannot be easily replaced and recycled. In order to change this design and material, choice plays a significant role. At this point, Desmopan® TPU provides attractive opportunities to make products more circular thanks to its material properties.

RESLIDES strongly believes that change comes with self-expression and the ability to enter into a direct conversation with our ever-shifting social and cultural dynamics. This is why RESLIDES has created a customizable modular sandal that is unique and meets all requirements: it is customizable, comfortable and fashionable. By simply changing the strap, wearers can transform a RESLIDES pair of sandals into the statement piece of their outfit, or a subtle accent to their look.

One shoe, endless straps, endless possibilities. Once a component breaks or wears out, consumers simply send it in to be recycled and replaced. This way, RESLIDES sandals last a lifetime.

By directly involving communities in the circular process, RESLIDES has initiated a two-way dialogue that drives a kind of innovation that is democratic and from which everyone and our planet benefit.

RESLIDES takes its responsibility to the planet and communities very seriously and is up for the challenge. The footwear designers are committed to keeping an open mind while continuing to respond to the challenges of an ever-changing world, thus leaving room for new ideas and ways of being to take shape. Rethink. Recycle. RESLIDE.
Desmopan® TPU – taking sustainable fashion and footwear applications to the next level
The combination of innovative solutions with future-conscious materials, commitment to the circular economy and close cooperation between all partners along the value chain are key to a better environment and the fashion industry of the future.
The sports and leisure industry needs to keep up with an ever-growing consumer demand for future-oriented products. Desmopan® can help take fashion and footwear applications to the next level.
The Desmopan® 6 series is abrasion-resistant, perfect for injection molding and possesses very low FOG and VOC values. This makes it ideal for skin contact and the perfect choice for applications close to or touching body parts.

Moreover, Desmopan®'s high tensile strength plays a vital role in shoe soles and modular connection points. Desmopan®'s wide range of elastic and flex properties are perfectly suited to fulfill the different requirements of footbeds and outsoles. Above all, the material's recyclability, cradle-to-cradle design possibilities and a consequent circular process within the technical cycle make Desmopan® TPU a perfect material choice.
The Eternal Sandal project by RESLIDES fits perfectly into our circularity goal and the Desmopan® 6 series is the right choice because of its unique features like low FOG/VOC values and low CO2 footprint compared to conventional polyether TPU.
Key Benefits
Good flow behavior: Desmopan® is ideal for injection molding.
Low FOG & VOC values: This makes Desmopan® the perfect choice for skin contact applications.
Strength for soles: Desmopan®'s tensile strength allows for modular connections in footwear.
Flex properties: Desmopan® (solid and foam) fulfills the requirements of footbeds and outsoles.
Recyclability: Desmopan®'s recyclability allows a circular process within the technical cycle.