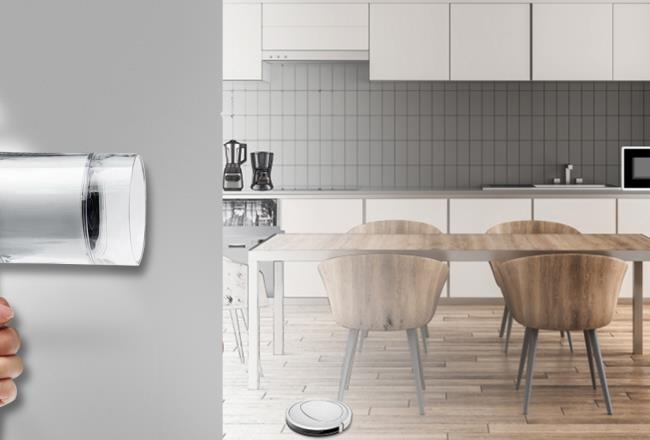 Story
Design smarter consumer experience with high-heat resistant APEC
More and more electronic, electrical & appliance (EE&A) products are being equipped with complex components within smaller bodies in today's high-tech world. In some cases, traditional PC material even has not met the increasing requirements of high-heat resistance. Simultaneously, the adoption of functional surface and illumination as essential design elements for smart devices calls for broader material options with high transparency. As such, APEC® was set out to challenge the status.
Heat-resistance on another level
APEC® is advanced in heat resistance. This transparent co-polymer is able to withstand temperatures up to 150°C for extended periods (RTI), a considerable improvement in range compared with standard polycarbonates.
The VST value of APEC® is up to 203°C (VST/B 120). In contrast, the maximum VST of standard polycarbonates is about 145°C (remark: all numbers above refer to typical values of Covestro PC).
Certain grades of APEC® even come with UV protection and flame retardance when the scenario calls for enhanced protection.
The improved production efficiency Covestro APEC® offers
With the booming EE&A industry, APEC®'s application shows a significant production efficiency effect in certain production scenarios which leads to potential savings on total production cost.
The creation of parts in EE&A industries are sometimes done using overmolding, for the sake of production efficiency or aesthetics. As an example, using APEC® instead of standard polycarbonates in the process to overmold with standard LSR (liquid silicone rubber, typically for sealing, damping or protection purposes), allows overmolding to be done at higher temperatures. It refers to a reduction in LSR curing time and a subsequent increase in productivity, which means a possible reduction in unit production costs.
Transparency opens up new design possibilities
To stand out from the competition, the product design of a brand has to meet the discerning taste of customers.
Unlike most standard high-heat thermoplastic, APEC® solutions are highly transparent , providing customers even greater freedom in CMF design.
Excellent optical quality of up to 90% transparency at 1mm, allows APEC® to be available in crystal clear, translucent, opaque and specialty colored formats, which make it a natural fit to sensor, functional surface, or illumination components for EE&A sectors.
The other notable qualities of this product that make it a breeze for designers to work with is its high precision and excellent surface quality. The easily moldable quality of APEC® also offers manufacturers more options in customization of shapes and wall thickness.
With its unique combination of qualities, APEC® opens up new worlds of possibilities for product designers to explore.
Our innovative co-polymer APEC® encapsulates Covestro's philosophy of bringing value to our customers in the form of additional design freedom. It also keenly reflects our company's mindset of constantly pushing boundaries in whatever we endeavor to do.
Key Benefits
Heat resistant Withstands temperatures up to +203°C .
Glass-like transparency An attractive replacement for glass, that is lighter and stronger.
Design freedom Available in clear, translucent, opaque and specialty colored formats.
High precision Low warpage, low moisture absorption and low post shrinkage lead to high precision.