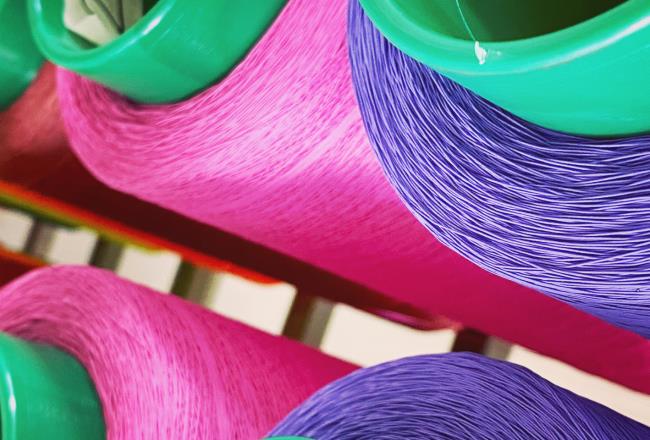 Case Study
The potential of TPU in versatile, high-performance yarns
Creating versatile, high-performance yarns to meet the demands of an ever-changing fashion industry is what Covestro and Coatyarn set out to achieve. With Desmopan® and TPU Evolution®, Covestro and Coatyarn came up with innovative solutions for both the textile world and a wide range of industries.
Covestro's collaboration with Coatyarn got underway with a specific and challenging goal: the creation of a versatile yarn to cater to the ever-changing requirements and performance demands in numerous industrial sectors. Moreover, this ambitious goal also had to be achieved through a more sustainable and efficient production process.

From the onset, TPU Evolution® represented the perfect solution as a high-performance yet stylish, polyurethane-coated yarn, thanks to its excellent properties and versatility of use in both the fashion world and a wide range of industrial applications.

For Covestro, the collaboration with Coatyarn presented the opportunity of further exploring the vast potential of its TPU product range.

Being a reputed leader in TPUs, high-performance materials and sustainable production processes, Covestro was immediately identified by Coatyarn as the ideal partner for this ambitious project.

Covestro's know-how, combined with Coatyarn's longstanding expertise in technical yarns, led to the perfect fusion and the development of an innovative product to reach a common goal.

TPU Evolution® is a product line based on an anhydrous dyeing and a more sustainable production process which has a considerably lower impact on the environment.

The versatility of the TPU material used to coat these yarns makes this innovative product line the best choice for a wide range of industrial sectors and applications, including technical fabrics, personal protective equipment, indoor and outdoor furniture, top-quality accessories... the list is virtually endless.
Coming up with an innovative technical yarn that is stylish and allows design freedom, yet tough and versatile to meet the demands of both the fashion industry and other sectors was no easy task for Covestro and Coatyarn.

Our challenge was to create the perfect combination between the TPU grade (as an external layer) and the technological process that should also be efficient and more sustainable. These were the two main factors that were responsible for narrowing down the list of possible choices.
The collaboration with Coatyarn gave us the possibility to further explore the extraordinary characteristics of our TPU product range.
That was the perfect example of a remarkable achievement in terms of product performance with a sustainable production process.
Covestro's expertise in TPU materials and its wide range of products, amalgamated with Coatyarn's know-how in innovative technical yarns, made this combination possible.
Desmopan® and TPU Evolution® complement each other perfectly. Desmopan®'s high-value TPU applications and Covestro's approach on using alternative materials as valuable resources go a long way both in achieving technological breakthroughs and improving sustainability.
Desmopan® TPU products offer high wear resistance, flexibility across a wide range of temperatures, and high elasticity over the entire hardness range, without compromising on quality or performance.
The versatility of polyurethane allows TPU Evolution® yarn numerous applications in fashion, textiles and a wide range of other industries.
Depending on the type of finishing, one single product allows for different effects on the fabric. Fabrics created with TPU Evolution® yarn have an incredible peach feel, softness, lightness and elasticity. Moreover, by increasing the application temperature, it is also possible to obtain a rubber or lamination effect.
TPU provides excellent resistance to abrasion, impact, oils, grease and hydrolysis. TPU Evolution® yarns are anti-microbial, UV-stable and colorfast. In addition, the safe and more sustainable production process based on anhydrous dyeing also reduces the impact on the environment.
The fusion of these remarkable properties thus develops innovative products and solutions that are flexible, durable and hard to beat in terms of versatility and performance.
We immediately identified Covestro, a leader in high-performance materials, as the right partner for this project. Their know-how and our expertise in technical yarns, has led to the development of the ideal product in our common goal: supreme technical performance combined with a sense of fashion.
Key Benefits
Sustainable: Recycled feedstock reduces the amount of plastic waste created in the industry.
Low-carbon: Up to 20% recycled feedstock lowers the CO2 footprint in contrast to virgin TPU.
RCS-certified: The manufacturing process is certified for transparency of the waste stream.
Tough and versatile: Desmopan® recycled grades deliver abrasion resistance and UV color stability.
Brighter impact: Anhydrous dyeing and more sustainable production process reduces the environmental impact.