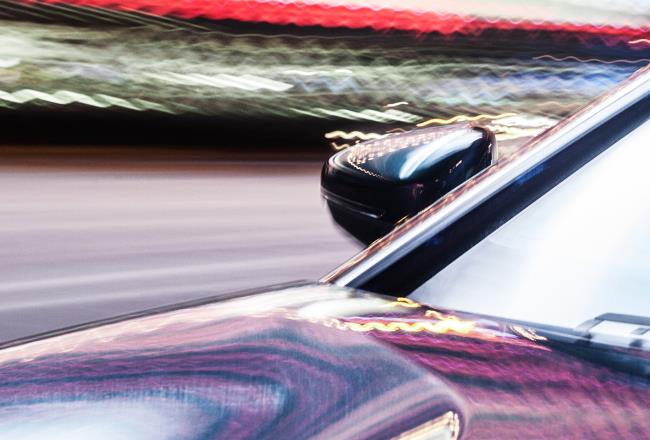 Case study
Time to try out: Meet the CMF Aesthetic Toolkit for automotive
Covestro's new color, material and finish (CMF) toolkit is designed to inspire automotive interior designers to explore the aesthetic and functional possibilities of polycarbonate. Developed in collaboration with academic and industry partners, the aesthetic toolkit will immerse you in future CMF trends.
To create the latest aesthetic toolkit, Covestro's CMF team first worked with Tongji and Shanghai Jiao Tong universities and Good Matter Design Studio to identify the most important trends for the automotive industry and vehicles of tomorrow.
The resulting toolkit supports color and design experts and industrial designers to meet the future of mobility.
Awarded with a 2022 German Design Award, our CMF toolkits equip designers with samples that are key to helping them translate engineering plastics into makeable designs.
As the scope for interaction between user and vehicle continues to expand and evolve, so do the requirements for automotive interiors. Contemporary material innovations have brought about greater design possibilities, from better personalization, to lightweighting and recyclable materials enabling sustainable development in the process.
We are pleased to be working with GAC again, this time with their design team. In addition to their R&D and CMF teams, we have also collaborated extensively with design companies and academic institutions. We have strong expertise and a good track record in providing customers with integrated solutions and making their products more attractive.
No longer the simple assembly-line produced metal boxes of yesteryear; today's automobiles are sophisticated machines that have surpassed their original purpose of transporting passengers from one destination to another. Vehicles are not only designed for meaningful integration of space and functionality but also viewed as a means of solving everyday problems and providing a space for self-development enabling smart and connected living.
In the newest edition of our automotive design trends brochure 2022 | 2023, Covestro and its Color & Design team identified four trends in particular, giving a taste of what's possible with our powerful CMF insights, focusing on megatrends in the automotive industry.
1.
Space at Pace:

Automobile interiors could become more focused on pleasurable spatial experiences instead of technological displays. Such spaces would provide a safe interior, where users can enjoy being in a soothing and comfortable environment. For example, warm shades of white and translucent blush tones create the feeling of being in a safe, snug room where one can let go and fully unwind. To create this atmosphere, Makrolon® Ai2457 is tailored for translucent parts with the highest requirements for quality and appearance in vehicle's interior.
2.
Distant realms:

Globalization has made the world smaller. In an era of instant information, all become indistinguishable from one another.

Perhaps it is possible to break from this monotony by looking to past civilizations – authentic, unembellished colors and materials could be the key to unlocking greater imagination and creativity in mobility design.

Boldly contrasting color combinations and shades reminiscent of natural elements such as wind, water and soil are ideal. Bayblend® T85 XUV, PC+ABS grade for best in class automotive interior light stability for unpainted molded in color parts.
3.
Meaningful autonomy:

Automotive designs enable people to discover, shape and express their individual identities in a meaningful way. In the near future, automotive designs incorporate a mixed material palette and aesthetics fulfill this desire. A pearlescent blue represents new ideas generated by internal contradiction, while a translucid yellow embodies an emerging lucidity and clarity of thought. To bring this to life, Makrolon® Ai2457, tailored for translucent parts, has the highest requirements for purity.
4. The next destination:
Current exploration of alternative materials seems to indicate that cars will still have a place in future sustainable habitats. With flexibility, cleanliness and safety in mind, the goal is to build a lightweight, energy-efficient solution — so that it casts less of a shadow on the environment.
In interiors, solid, earthy colors are a reminder that we have limited resources on our planet, while utilizing postconsumer recycled materials can help to encourage the implementation of circular systems. For these designs, look to Bayblend® T85X R25, (PC+ABS) Blend with 25% PC recyclate, good injection molding processing behavior (easy flowing).
A reasonable selection of colors, materials and finishes for automotive interiors is key to improving comfort and aesthetics. Materials need to cater to the increasingly diversified interior designs for cars. Covestro's expertise in materials and CMF can not only provide us with the most appropriate materials, but also help us showcase their aesthetic value.
Key Benefits
Inspiration The toolkits and trend brochures help designers uncover new ways to apply CMF.
Flexibility Polycarbonate has a high degree of flexibility to adapt to CMF trends.
Functionality Engineering plastics provide functionality and creative visual effects.
Design freedom Polycarbonate offers a high degree of design freedom due to its material properties.
Sustainability Our polycarbonate grades are also available as recycled materials or/and as renewable attributed products to significantly reduce the CO₂ footprint.