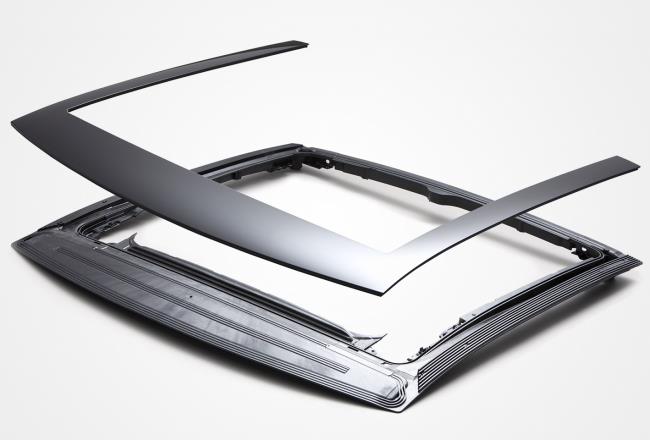 Case study
Glass-like appearance roof bezel made with Makrolon® AX
Automakers including VW, Audi, Fiat JLR, BMW, and Daimler are always looking for new ways to maximize the enjoyment of the open road for drivers and passengers of their automobiles. With this in mind they wanted a significantly larger sunroof to enhance the driving experience. Some of them turned to us and Webasto AG for a solution.
Webasto AG
approached us because they wanted to achieve a deep, black gloss effect and a glass-like, scratch-proof surface for the roof bezel they had in mind. They were also looking for a polycarbonate that would effectively complement the glass surface area and make it appear larger, while hiding the bodywork structure. It was a task that called for intelligent design and a smart choice of materials.
In order to meet the design challenge, we needed to provide a robust polycarbonate with glass-like transparency, UV-, impact- and scratch- resistance along with other properties needed to create a large, panoramic vehicle roof, including a black, glass look with a high gloss surface suited to roof bezel applications.
Working closely with Webasto AG, we helped develop a sunroof with a glass surface about twice as large as is normal – with Makrolon® AX 2675 black polycarbonate enclosing the glass in a one-piece, U-shaped panel. The innovative automotive part was produced with injection compression molding – the preferred process for molding large, three-dimensional glazing pieces because it produces low-stress components free of sink marks with easy-to-coat surface properties.
Why Makrolon® AX was the right solution for Webasto AG
Ultra-tough: Offers excellent heat-, UV-, impact- and scratch resistance.
Dependable: Material has high dimensional accuracy and stability.
Good optical quality: Makrolon® AX provides glass-like appearance.
Easy processing: Injection-compression molding process provides easy-to-coat surface.