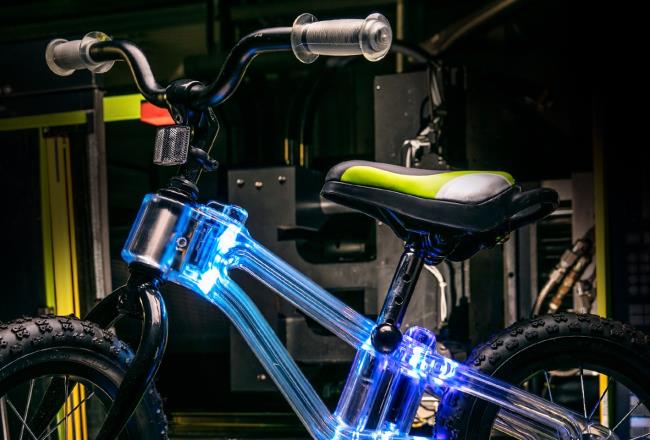 Case study
Strong, light Makrolon® created for illuminated bike frame
Inspired by his 6-year old's wish for a bike that could light up, the soon-to-be founder of Phantom Frames Bikes approached us to see if we could help. It turns out he came to the right place. Our high-performance material Makrolon® 2807 and our technical support helped make the dream a reality.
In addition to requesting a high-performance, functional material for the bike from us,
Phantom Frames
sought considerable technical support in selecting precisely the right material and ensuring it would be compatible with production processes in the planned factory.
Developing and patenting the first transparent bike frame to transmit light, was one thing. But since Phantom Frames was creating children's bicycles, the quality and consistency of the materials used was, and is, very important. The materials needed to be strong, durable and, above all, safe.
The durability of Makrolon® 2807 thermoplastic, paired with its light weight, made it the ideal material for the Phantom push bike. Tough and impact resistant, the bike is available in five colors with flashing LED features. Importantly, the frame's glass-like transparency allows plenty of light to pass through it and, from a processing standpoint, this medium viscosity of Makrolon® 2807 releases easily from the mold to make manufacturing a clean, straightforward process.

Why Makrolon® 2807 was the right solution for Phantom Frame bicycles
Light & strong: This tough, lightweight polycarbonate has excellent impact resistance.
Glass-like transparency: Enhances aesthetics and is ideal for lighting.
Ease of use: Easy release properties allow for simple removal from the mold.
UV-stabilized: Remains relatively unchanged when exposed to UV light.