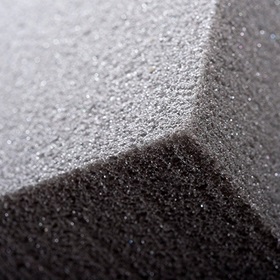 Baynat® for self-supporting foams you can depend on
Baynat® polyurethane systems for semi-rigid foams are used in fiber reinforced composites for lightweight construction. Like other lightweight insulants Baynat® is thermally insulating but, in addition, it is also a highly effective noise absorber that is dimensionally stable and resistant to high temperatures.
Baynat® is used to create the lightweight, foam core for composite sandwich headliners in vehicles. Baynat® is optimized for indoor use with low emissions and odor for increased safety and comfort. And when it comes to production, the thermoformable, buckle- and rupture-resistant nature of the material make headliners easy to work with and simple to install.
Key Benefits
Lightweight: Available in densities between 15 and 40 kg/m.
Low emissions and odor: Meets relevant industry standards such as VDA 278.
Self-supporting: Foams made with Baynat® hold their shape, even under the effects of heat.
Noise-absorbing: Provides high noise-absorbance despite its light weight.
Temperature resistant: Holds its shape, even in high temperatures.